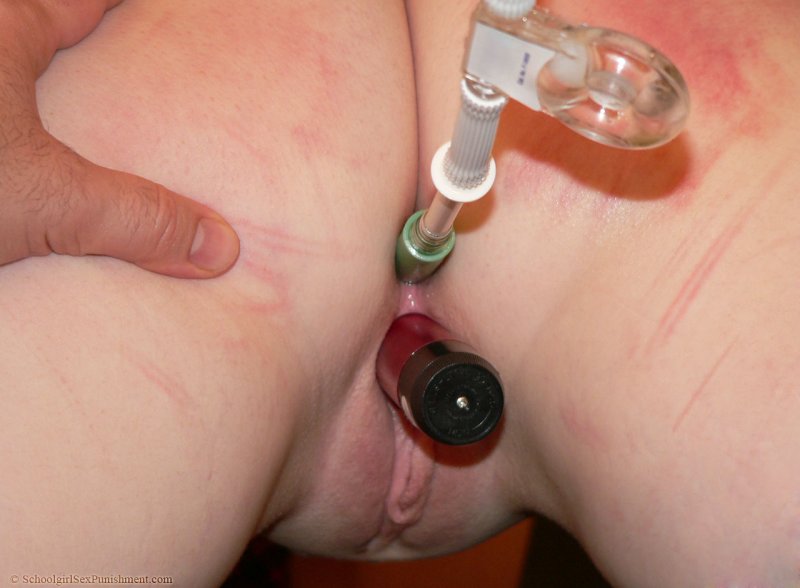 SchoolGirlSexPunishment – Upside-Down Discipline for Raven at Reform School
Categories: College Sex, Abused, Punishment, BDSM, schoolgirl, Enema, Spanking, Crying Bitch, Pretty Girls, Teen Porn
Description: Featuring : Raven and Andre Chance
Length : 67 minutes
Raven is a hot schoolgirl with a truly bad attitude. But she gets straightened out with heavy-handed corporal punishment and humiliation at the Reform School. The schoolmaster swings her across his lap and spanks, paddles, whips, belts and canes her. Then he puts her in hogtie bondage, upside down on an inversion table. While Raven is upside down, the schoolmaster whips her at length and makes her suck his cock, until he cums in her mouth; then he cleans her out by drenching her with a cold-water hose! He "warms her up" with a riding crop, before finally taking her down… Raven's punishment is far from over! The schoolmaster applies nipple clamps, a metal mouth gag and clothespins on her nipples. Next, he sticks a suppository up her butt. When poor Raven needs to pee, she has to pee onto the floor while she sits astride the schoolmaster's lap – and then Raven has to mop her own pee from the floor! The sadistic schoolmaster swings Raven across his laps and positions her almost upside-down, with her arms on the floor. First, he gives her an enema with a large, antique metal syringe. Then he invades her pussy with fingers and a vibrator. Afterwards, he gives her a full-bag enema with a large nozzle and a flow indicator that lets you see every drop go in. For final humiliation, he makes Raven expel the enema into a bucket while she sits astride his lap. If that weren't bad enough, he spreads out her butthole with two fingers to help the water come out! Lastly, he sends Raven to the toilet to finish up. While she expels the rest of the enema on the toilet, the schoolmaster probes her mouth with a finger while Raven recites all the punishment she received today!
OTK spanking, whipping and paddling. Very red butt. Handcuffs. Riding crop and caning in bondage. Belt whipping in bondage, incl. on pussy.
Upside down, hogtied to inversion table : blow job and cum in mouth, extensive whipping all over, drenched with a water hose, shivering from the cold water, riding crop. Nipple clamps. Metal mouth gag. Clothespins on nipples. Suppository while OTK, nearly upside down (still with gag and clothespins.) Pee on floor, while sitting astride lap. Mop her pee on the floor. While nearly upside down (still with gag) : enema with large, antique metal syringe; finger-fucking pussy; masturbated with vibrator; enema with red bag, large nozzle and flow indicator (while being masturbated with vibrator.) Bucket expulsion, while sitting astride lap, incl. while asshole is "parted open" with 2 fingers! Toilet expulsion.