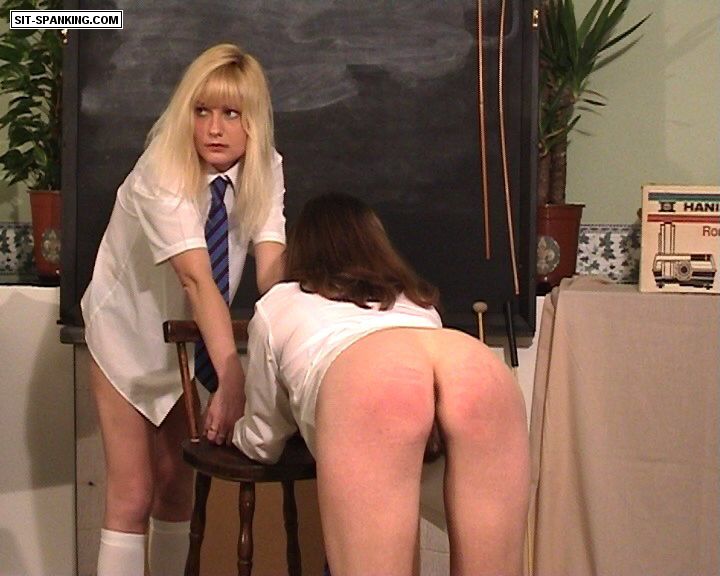 Sit-Spanking – A Lesson From Mrs. Evans
Categories: Punishment, Spanking, Discipline, Beating, Cane, Whipping, Old Clip
Description: Jayne and Louise have been told to report to Miss Evans after school. They are not sure why they have been summoned, but they know it won't be to discuss the weather!
Miss Evans, a senior and very strict mistress is waiting for the girls in her office and when they arrive, she wastes no time in telling the girls in no uncertain terms, exactly what the problem is. It transpires that the two friends have been making a nuisance of themselves in many of the classes they attend together, causing widespread disruption and chaos. Their own work, particularly English Language, has begun to deteriorate as a direct consequence of their misbehaviour and Miss Evans is going to put an immediate stop to it.
Jayne and Louise are given a spelling test, under the strict understanding that should any mistakes be made, then the girls will be punished. In turn the girls are given words to spell out on the teacher's blackboard and unfortunately for both, errors are made. The friends, in turn, undergo a sound spanking over Miss Evan's knee, firstly over knickers and then on their bare bottoms. Further mistakes result in more spankings for the girls, which increase in severity, until their cheeks are very red and sore.
Miss Evans is becoming very tired with the appalling attitude adopted by the schoolgirls and decides that it's time to teach them a much harder lesson. This results in a very painful paddling for both the girls, who receive over 30 strokes each whilst bent over their desks with knickers pulled well down.
At the end of this, Jayne and Louise are relieved when the Mistress announces that they have reached the end of their spelling tests. Their relief soon turns to dismay when they realise that this does not mean the end of their punishment. Miss Evans will not be totally satisfied until she sees two very well striped bottoms.
Both girls have to remove their gymslips and knickers, to receive 30 hard strokes each from a very angry Miss Evans, who soon reduces the girls to sobs and tears. A classic and authentic schoolgirl CP video, with great performances from a strict Mistress and two lovely girls!