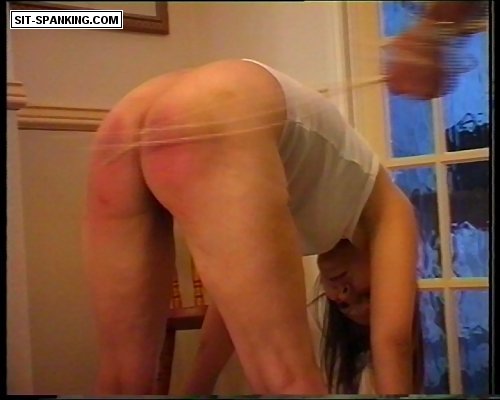 Sit-Spanking – Bottom Marks For Kirsty
Categories: Punishment, Spanking, Discipline, Beating, Cane, Whipping, Old Clip
Description:
Kirsty Patterson is the naughtiest girl in the entire Upper Sixth! She has been forging notes from her mother, excusing herself from taking part in PT lessons with the rest of the girls. Her little scheme had worked well, until the arrival of a new House Master!
Kirsty's forgeries are denied, but her protestations are unheeded by the strict master who is standing in for Miss Taylor, whilst she is on holiday. He has compared the handwriting from the notes, with that of the schoolgirl's English exercise book and has decided that the writing is identical and therefore the notes are blatant forgeries. He explains that he feels Miss Taylor has been far too lenient in the past and that he has certain 'methods' at his disposal, which tend to make naughty young girls want to tell the truth.
Kirsty makes the mistake of once more denying the accusations and soon finds herself over the Master's knee with her skirt around her waist and knickers around her ankles. It is not long before her lovely young bottom is glowing red from a blisteringly hard spanking, delivered at full force. The poor schoolgirl now readily admits that the notes have all been written by herself, to prevent her taking part in PT lessons.
As punishment for this, she is forced to strip to her knickers and vest, to undergo a strict regime of PT and spanking. The schoolgirl is totally hopeless at PT and the Master, now angered by her unruly attitude, vigorously applies the paddle and leather strap to her sore naked backside. The cane is then produced and Kirsty, in touch toes position, is subjected to a barrage of searing strokes across her shapely young bottom. It is only when she is bent across the Master's desk for yet more caning, does her attitude improve and she promises to behave in the future and attend all her PT lessons. A further six strokes delivered with maximum impact, persuade the girl that she had better be telling the truth.
A classic schoolgirl CP film with PT and severe punishment. Not to be missed!