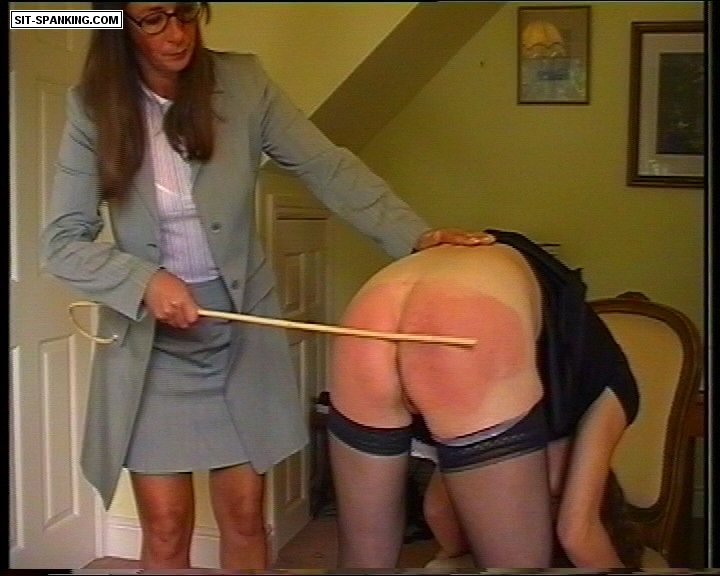 Sit-Spanking – Errant Escorts
Categories: Punishment, Spanking, Discipline, Beating, Cane, Whipping, Old Clip
Description: Escorts Sam and Sonja work at the exclusive 'Elite Escort Agency'. The owner, Miss Bright, prides herself on a reputation second to none, for providing top class girls and genuine, authentic costume to meet any customer requirements. However, Sam has other ideas and persuades new girl Sonja that the best way to earn 'extras' is to dress in very revealing, skimpy outfits, leaving nothing to the imagination!
Unfortunately for the girls, Miss Bright catches them when attempting to leave the building. The agency owner is horrified with their appearance and belligerent attitude and threatens to sack both girls on the spot. Poor Sonja is dismayed, as it is only her first day on the job and immediately places the blame on Sam. Miss Bright is only too aware that Sam is the ringleader, but insists that both girls be punished or lose their positions with her agency. She delivers her ultimatum of Corporal Punishment, or the sack!
The girls are left with little choice and decide to submit to a spanking. Sam is told to leave the room, as Miss Bright deals with newcomer Sonja. She tells Sam that she is to receive double the punishment, as she is certainly the main culprit. Sonja's punishment commences with a hard hand spanking over the knee of the proprietor, her skimpy hostess outfit offering no protection from the onslaught of smacks to her soon sore and red bottom. Sonja mistakenly believes that her punishment will be over at the end of this spanking session, but Miss Bright has no intention of letting her off that lightly. The unfortunate girl soon finds out how Miss Bright deals with errant employees. Leather paddles and straps are then applied with vigour to the ample bare bottom of the hapless young girl and her cheeks soon turn to a shade of crimson. Things soon take a turn for the worse when Miss Bright fetches her thin whippy cane and applies many hard strokes to Sonja's very sore bottom.
Listening to the proceedings from outside the room, Sam is aware of the fate that awaits her in a few moments time and when she hears Sonja's cries and squeals of anguish, she becomes very scared indeed. So scared in fact, that she actually pees in her knickers in pure fright. She loses control and emits a golden stream onto the floor. When she too is finally summoned to Miss Bright's office, her knickers are wet through. The once cheeky and insolent girl is reduced to whimpering at the hand of the strict agency boss. Her punishments take a similar form to that of Sonja before her, but as the ringleader, she is punished even more severely, culminating in a very hard caning indeed. Sam's naked buttocks are extremely well striped as she has to touch her toes to receive the last cutting strokes!
Gorgeous girls and severe all girl CP action. A real thriller!