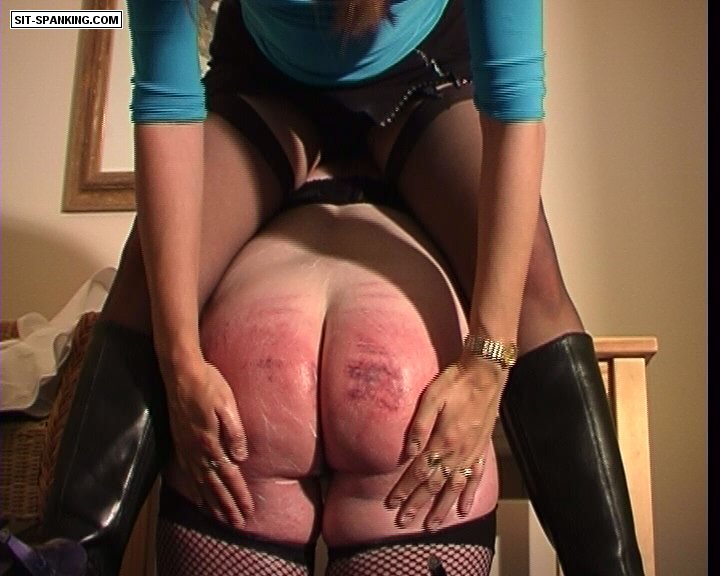 Sit-Spanking – I'm The Boss Part 1-2
Categories: Punishment, Spanking, Discipline, Beating, Cane, Whipping, Old Clip
Description:
By popular demand, after her small appearance in the 2000 Stroke Challenge video, SIT's very own Christina, stars in her very first 'active' role. She's young, beautiful and sexy, but above all, VERY strict and she treats us to an unforgettable debut performance!
'I'm the Boss' tells the story of how Amber (yet another first time ever video appearance), has failed to turn up for an SIT video shoot the day before, wasting the time of everyone concerned, including the film crew and other performers. A furious Christina demands that Amber reports to her at her private house within the hour.
On her arrival, the woman shows little regard for what she has done and is sarcastic and surly in her attitude towards Christina, as she finds it difficult to accept a dressing down from a girl younger than herself. This outlook however, is short lived, as Christina soon stamps her authority on the situation and reminds Amber of just exactly who is boss by telling the woman that she will never work for her again.
At this, Amber's attitude changes completely and she begs Christina not to fire her, saying that she desperately needs the work and that she'll be willing to do anything in order to make amends. This is music to Christina's ears, who has been relishing the opportunity to punish this arrogant woman. The humiliation of being spanked by a younger girl would serve to teach her a further lesson.
Christina wastes no time whatsoever and proceeds to haul Amber across her knees for a spanking. First over her skirt and then with the skirt hitched well up, the spanking continues over her black knickers. The weight of each smack steadily increases in severity and by the time her knickers are pulled down, Amber's full buttocks have already turned crimson. This spurs Christina on and she continues to furiously spank the woman's bare bottom, ignoring her excuses.
Satisfied that Amber's bottom is well and truly 'warmed up', Christina then makes her kneel on a low wooden table with her bottom sticking right out, to feel the sting of her leather paddle. Amber can hardly keep still as splat after splat lands heavily on her bright red and very sore cheeks. Then with legs spread well apart, Christina applies a painful spanking to her backside, legs and inner thighs, (treating us to some lovely up skirt glimpses of her own stocking tops and knickers as she does so), before making Amber lie face down on the floor, while she sits astride the woman's legs and continues to spank her relentlessly.
Amber can hardly take any more, but Christina is not yet satisfied that she has learned her lesson. She returns to the leather paddle, before subjecting Amber to a painful session with a wooden paddle, both instruments being applied in positions used to maximise impact and humiliation.
Amber literally begs Christina not to use the cane, as her bottom is so sore she cannot take it, but this just makes the Boss even more determined to teach her a lesson and she canes Amber's bare bottom without hesitation. The woman is soon hopping up and down as the cane leaves it's stripe marks almost immediately!
Satisfied that she is now well and truly sorry, Christina shows her compassionate side and treats Amber's poor bottom to a soothing massage with cold cream.