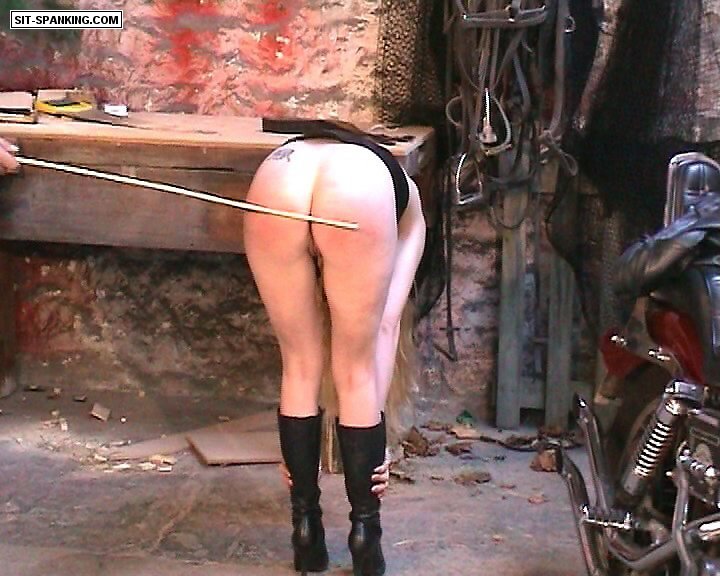 Sit-Spanking – Please Don't Use The Cane
Categories: Punishment, Spanking, Discipline, Beating, Cane, Whipping, Old Clip
Description: Motorcycle fanatic, Chopper, returns to his workshops to find that his
ex-girlfriend, Kim has broken in to the premises and is in the process of sabotaging his prized Harley Davidson motorbike.
It transpires that Chopper has recently ended their relationship and now has a new girlfriend, Tracy. Kim is still heartbroken and green with jealousy and has
decided to take her revenge by damaging her ex-boyfriend's prized possession. This is the girl's first mistake, the second mistake is being caught in the act!
The burly biker is furious and he wastes no time in teaching Kim a lesson she will never forget. Despite her cries of protestation, she is hauled over the saddle of the big Harley and is relentlessly spanked across her tight leather jeans. Kim is full of anger and is determined to fight back, but the big biker is too strong for her and she is held firmly in place as the spanking continues on her wriggling bottom. She hurls a barrage of verbal abuse about Chopper's new girl-friend, calling her a bitch and a tart, but this only makes matters worse for her.
More hard spanking follows over Chopper's knee, before he pulls the girl to her feet and swiftly yanks her leathers to the floor and pulls her skimpy knickers up high into the crease of her cheeks. Back over the saddle she goes, this time with buttocks naked and exposed for some more spanking. The bikers big hands leaving their imprint with every smack.
Kims bottom is now bright scarlet, but Chopper informs her that the spanking
has purely been a warm-up for more severe measures to come. The girl is made to stand facing backwards on the Harley, with her feet on the pegs and hands on the rear mud-guard, presenting a perfect target for the angry biker.
Chopper removes his leather belt and proceeds to strap Kim's bare bottom in
a series of biting strokes.
Kim however, remains unrepentent and for her attitude, she is spanked once again in various positions over the motorbike. It is not until she is told that she is to be caned, does she change her tune. She begs her ex-boyfriend not to use the cane, to no avail. She is made to remove her leather jeans and knickers completely and stand astride the front forks to receive the first six strokes. Then across the saddle and finally touching toes, the would-be bike vandal is caned on her bare buttocks, until the stripes are clearly visible.
It is not until she promises that she is sincerely sorry, does Chopper agree to dismiss her, but at the same time warning her that things will be worse, should anything like this ever occur again!
A cracking good film, with brilliant performances from both parties. Lots of very hard spanking too!