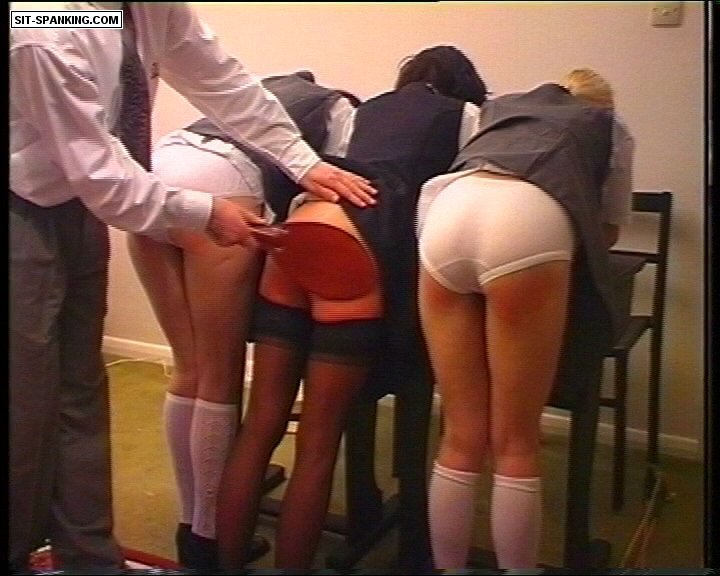 Sit-Spanking – Prefect's Detention Part 1-2
Categories: Punishment, Spanking, Discipline, Beating, Cane, Whipping, Old Clip
Description: Classmates Jayne & Deborah are in detention yet again – 3 days in a row!New girl Deborah is very worried, but her friend assures her that her fears are unfounded, as detention is always taken by 'dopey Daphne' the prefect renowned for dishing out only lines.Happy in the certainty that Detention with Daphne will be a push-over, as on the previous 2 occasions, the girls are horrified when head Prefect Celia strides into the room with the shocking news that she is in charge of detention today and as head Prefect, she has the authority to administer a spanking!
Both girls are forced to submit to a vigorous hand spanking over Celia's knee, followed by a bare bottomed paddling whilst bent over their desks.The Prefect shows no sympathy to the new girl, whose bottom soon turns a very deep shade of red. The girls complain bitterly when Celia produces her canes, stating that the Prefect has no right to cane them. Their protestations fall on deaf ears as their sore bottoms become very well striped indeed after a severe caning each! Celia has over-stepped the mark and exceeded her authority by administering the cane to Jayne and Deborah. (See 'Prefect's Detention Part 1').
Headmaster, Mr Edwards arrives unannounced as detention is finishing and spots the assortment of canes on the desk. Celia tells him that she only threatened the two girls with the canes to scare them. However, the pupils pull down their school knickers and show Mr. Edwards the array of tell-tale tramlines on their young buttocks.
The Headmaster has no option but to punish the Prefect for her actions and intends to carry out the act in front of the two pupils, to show that justice is being done.
Poor Celia is bent over the desk and suffers the humiliation of having her knickers pulled down by Deborah, as Edwards spanks and paddles her bare bottom. The two pupils also have to join Celia for more strokes with the paddle, before he delivers a sound and heavy caning to the Prefects bare cheeks!
Celia is repeatedly caned, whilst bent over the Headmaster's desk and then made to bend over in touch toes position, where her already well striped bottom is subjected to further searing strokes with the Head's most senior cane!