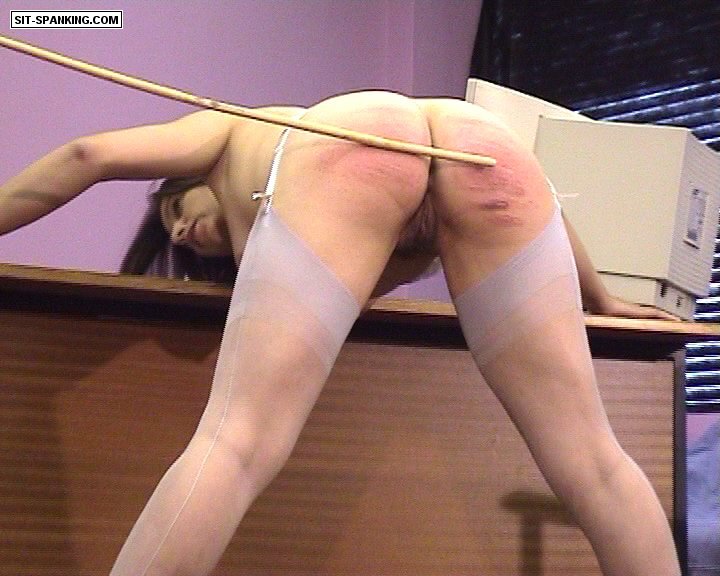 Sit-Spanking – The Headermaster's Mercedes – Part 1-2
Categories: Punishment, Spanking, Discipline, Beating, Cane, Whipping, Old Clip
Description: The story takes place in a boarding school and Miss Watson (Dawn Deacon) is accused of damaging the Head's new Mercedes with her old car. She denies all knowledge of course and Miss Forbes (the Deputy Head played by Christina) is invited to assist the Head in punishing the teacher, which she gladly does of course!
The teacher is spanked over the deputy head's knee and is bent over a desk for a good paddling, whilst the Headmaster oversees his deputy's handy work. When it comes to the leather strap, Miss Forbes seems a little reluctant to administer it with full enthusiasm and the Headmaster steps in to take over. He proceeds to punish Miss Watson with the strap and then over the desk and finally, in touch toes position for an extremely hard caning. The teacher is dismissed and the Head thanks his deputy for her loyal assistance.
Unfortunately for Miss Forbes, the Head later finds out that Miss Watson's car had in fact been driven by his deputy at the time his Mercedes was damaged and she was responsible all along. Obviously, Miss Watson is furious and the Head, leaving the room, gives her full permission to take revenge in any way she sees fit!
The agrieved Miss Watson then sets about teaching the deputy a lesson she'll never forget. Miss Forbes is hauled over the teacher's lap for a very hard spanking and her flimsy knickers are soon danglng around her ankles, as her bare bottom receives the full brunt of Miss Watson's anger.
She is determined to return the humiliation she felt that morning when she was punished by both the deputy and the Head himself and she sets about placing poor Miss Forbes in a series of revealing and embarrassing positions for some very severe spanking, paddling and strappings. She forces the deputy to systematically remove more items of clothing as her punishment progresses.
Finally, Miss Forbes realises that she is going to be caned in much the same manner as the teacher had undergone earlier that day. However, she is to receive twice as many strokes. The deputy is placed over the desk and is made to count each searing stroke out loud.
To add to her humiliation, Miss watson instructs the girl to remove her bra and despite her protests, the deputy finds herself naked apart from her stockings and high heels, bent over touching her toes for the next batch of cane strokes. Each stroke is delivered with more force and Miss Forbes' bottom is soon a mass of red stripes and wheals. It is obvious that this young lady has certainly never been caned before!
Only when Miss Watson is completely satisfied that the girl has learned her lesson, is the deputy allowed to apologise profusely and leave.
See two of SIT's favourite girls perform together in this full one hour long film and witness Christina's very first punishment EVER!! Order the DVD and also get a bonus scene shot behind the scenes after the film was finished, where Dawn and Christina sooth each other's bottoms with cold cream!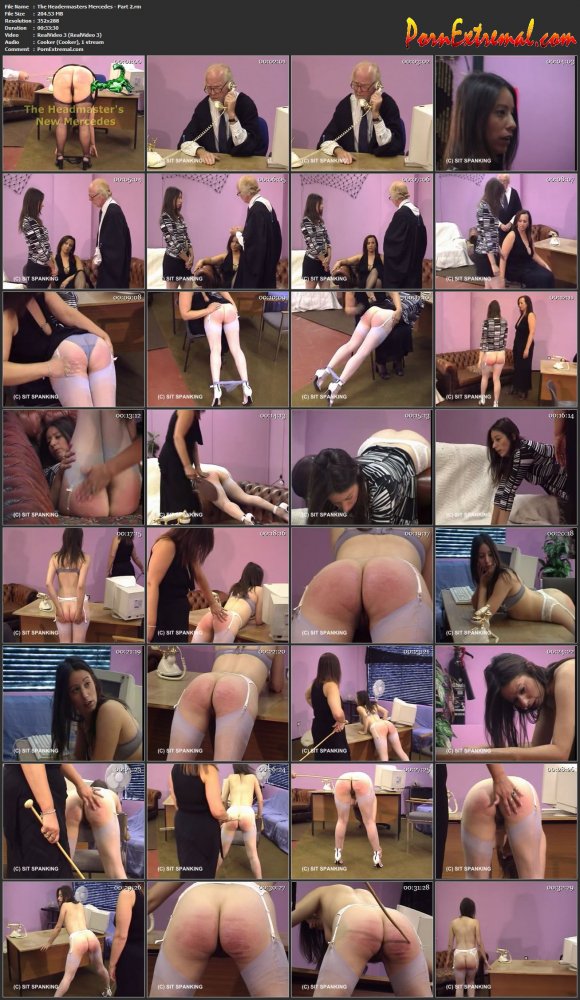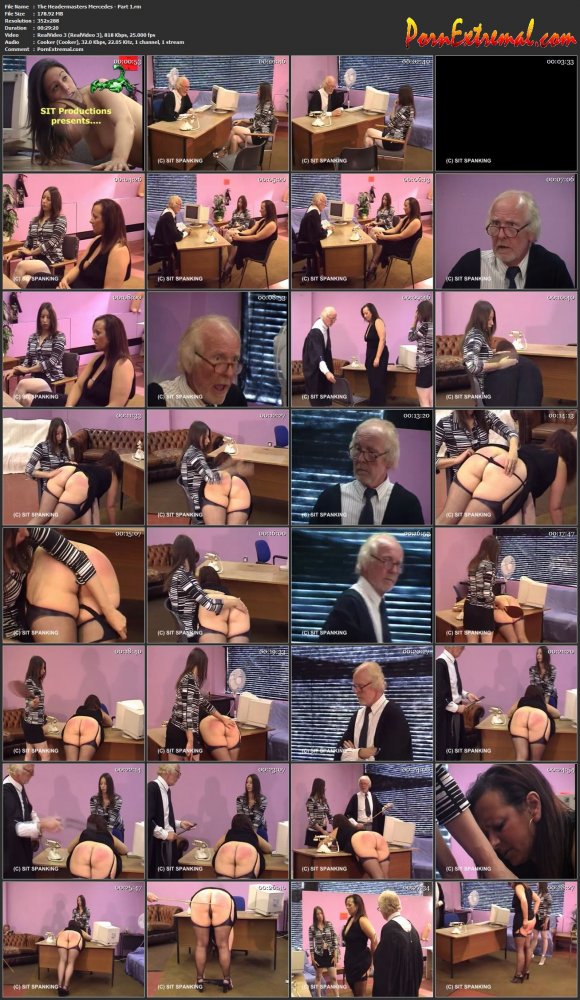 The Headermasters Mercedes – Part 1.rm
The Headermasters Mercedes – Part 2.rm