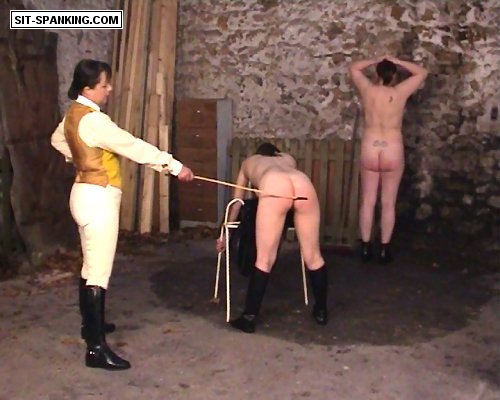 Sit-Spanking – The Stable Block At Birch Manor
Categories: Punishment, Spanking, Discipline, Beating, Cane, Whipping, Old Clip
Description:
When Lady Sara enters the stable block, she is surprised to find Sally the stable girl there, on what is supposedly her day off. Sally explains that the Lady of the manor, Lady Sara's aunt had found her in the stables with her boyfriend, in a compromising position. She had also been caught smoking in the stables and had been told to report there to await her fate. Sally asks Lady Sara what may become of her and Sara explains how the stable girl can expect to receive severe corporal punishment from her stern aunt. However, Lady Sara also reveals that she too has been told to report to the stable block, for much the same treatment. Despite being forbidden to do so, she had been caught riding and laming her aunt's favourite horse! Sally is incredulous that Lady Sara should receive such treatment, but it transpires that corporal punishment is a way of life in this family and that Lady Sara is very familiar with this method of correction. Lady Sara tells the stable girl that her aunt is most severe and that she does not believe in giving a warm-up spanking, preferring to go straight in with crop, strap or cane! In an attempt to cheat her ladyship, the pair decide to warm each other's bottom by giving each other a good spanking, in preparation for the real punishment to follow. Both girls take turns in pulling down their panties and bending over the straw bales for a hard spanking until their cheeks are glowing and thoroughly warmed up.
Pleased with their efforts, the girls just have time to dress again, before her ladyship enters the stable block. Wasting no time and true to form, she intructs her niece to remove her panties, so that her punishment may commence and she is immediately confronted with a pair of well warmed buttocks! Lady Sara is forced to admit that she and Sally had attempted to cheat, by warming their bottoms' first! The hapless pair are now to be punished even more severely and both girls are soon over the bales again for 12 strokes of the riding crop each, over their jeans and jodphurs. The tightly stretched material making each stroke more painful. Each girl in turn is then instructed to take up a jumping position over her ladyship's saddle stand and with their bottoms' high in the air and panties pulled up tight, they are soundly spanked until their cheeks turn crimson. To further humiliate them, lady Sara and Sally are forced to remove their shirts and present themselves wearing only a bra and boots. This time the girls have to bend over side by side, to receive a thorough leathering from her ladyship's heavy strap, their buttocks trembling under the shockwaves from each stroke. Still not satisfied, the lady of the manor insists that bras are now removed and naked apart from their riding boots, the niece and the stable girl are back over the saddle stand for a very hard caning indeed. Being familiar with this kind of punishment, lady Sara remains stoic throughout, but when it's Sally's turn, it's more apparent that the poor stable girl is not so fortunate.
However, Sally somehow manages to take the canes and both girls breathe a sigh of relief when they believe that it's all over. Alas for them, her ladyship, still angry with them, has other ideas. She calls for Jorrocks her stable master, who enters carrying two freshly cut birch rods! These girls are to be taught a real lesson. Lady Sara is first to feel the cut of the birch. Twelve heavy swipes land on her already sore, but delicious bare bottom and as before, she takes them all, barely flinching. Sara is dismissed and her ladyship takes a fresh birch from Jorrocks, with which to deal with the stable girl. It is only two stokes before poor Sally cannot take any more and her ladyship is forced to enlist the services of her stable master, who steps forward and hoists the girl over his back, presenting her bottom as an easy target for her ladyship's birch. Sally is 'horsed' for a full twelve strokes!