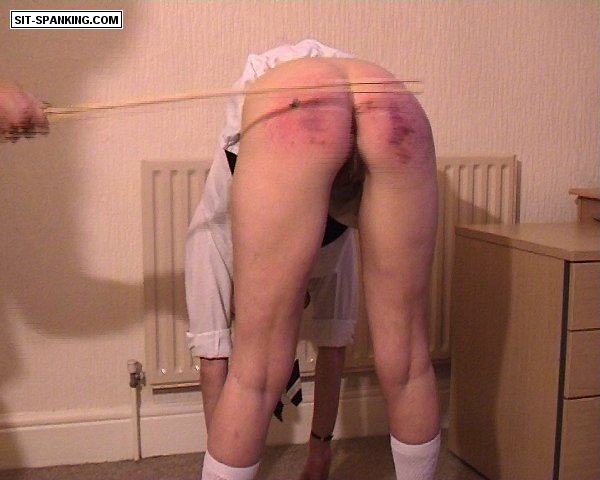 Sit-Spanking – You Should Be Expelled
Categories: Punishment, Spanking, Discipline, Beating, Cane, Whipping, Old Clip
Description: Fifth former, Sarah-Jayne Smythe is a pupil with a problem. Not only has she been stealing cash from the school changing rooms, but when confronted by the strictest teacher in the school, Miss Taylor, she also openly admits to the thefts, stating that her ?100 per week allowance from her father, is simply not enough to support her lifestyle!
Miss Taylor knows that the penalty for theft at this school, is immediate expulsion and she tells Sarah-Jayne that she must accompany her to the Headmaster's office, where she will be dismissed from the school. The schoolgirl is distraught and begs Miss Taylor not to take such action, as the shame of expulsion would be intolerable within her well to do family.
Miss Taylor, not wishing to jeopardise the future of an otherwise exemplary pupil, agrees that the Headmaster need not be involved, providing the girl accepts Corporal Punishment as an alternative. Sarah-Jayne Smythe is left with little choice and she soon finds herself over the teacher's knee, with her knickers dangling around her ankles, as Miss Taylor delivers a blistering hand spanking to her naked young buttocks. The sheer force of the spanking leaves the girl under no illusion as to the severity of the punishments to follow.
Miss Taylor then fetches her heavy leather paddle and proceeds to introduce this to the schoolgirl's already reddening cheeks, as she kneels over a chair with her lovely bottom pushed well out to accept the sting of the leather instrument. Then, poor Sarah-Jayne has to lie over the desk where Miss Taylor produces a leather belt. Each swish of the belt bites deep into the flesh of the girl's upturned bottom. Over one hundred stinging strokes are delivered at full force, until her cheeks turn a shade of dark red.
Miss Taylor, as yet unsatisfied with the 'warm up procedure' continues with another extremely hard spanking. This time with the schoolgirl lying with her back on the desk, her feet high in the air, bottom well exposed, with the teacher gripping her ankles. The girl wriggles and gyrates under the impact of such a severe spanking, but Miss Taylor is resolute and does not relinquish her grip until she is satisfied with her efforts.
Sarah-Jayne Smythe assumes that this will be the end of her punishment, but to her dismay, she soon realises that Miss Taylor has other ideas. She is to be caned. Firstly whilst bent over the desk and then in touching toes position, the schoolgirl is relentlessly caned by the schoolmistress. Over fifty very hard strokes with Miss Taylor's most senior canes, are delivered with deadly accuracy across Sarah-Jayne's blistered and naked bottom.
Too severe a punishment? Not really – she should be expelled!
This is a classic schoolgirl CP film featuring Dawn Deacon at her devastating best and a young lady who certainly took everything Dawn handed out. Brilliant!