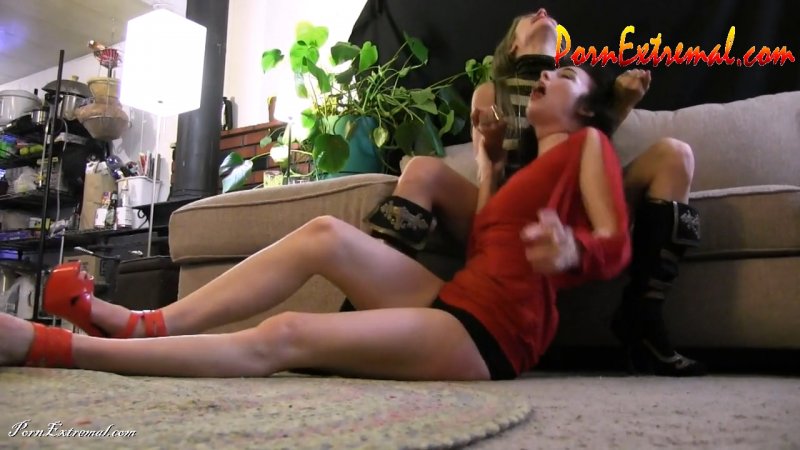 [New, Joint] Chris' Corner – Her Party Girl Appetite 1
Categories: Snuff Fetish, Rape, Strangle, Bagging, Shooting, Abused
Description: This has extra strangle views with killer and victim perspectives, added to the full views and other angles, making this extraordinary for all who love asphyxia!
Belle has been attracted to the opposite sex since she can remember. She played the game with her family, getting married, but was never satisfied with her life. After her husband left a couple years back, Belle has been flirting with her desires. Not only to meet some young ladies, but some deeper, darker cravings to take one home, get her even more tipsy, make out with her and when she least expects it, boom she wraps her stocking around their neck and strangles them to death. What really makes her tick is controlling the situation from start to finish, putting all of her muscle, passion, and character into each and every step, move, and of course going with the flow when things are just right.
In the early morning hours; after spending all night at 2 different clubs in Anchorage, until finally meeting a sexy young hottie, dressed to the T in a cocktail dress, and open toed high heels, she buys her a few drinks, strikes up conversation, and gets them to come back home with her. This is the first time she will follow through with her plan, and the improvisation of her next few hours will determine the rest of her serial killing life, and how things will fare in the future.
Her first choice and sexiest female she has landed in the club is Lexxi, a young bank teller that loves the women that hang out in the clubs and want to take her home to have sex and drink more after the party. Lexxi is already a bit tipsy and when they come through Belle's door, they are making out. Belle offers Lexxi a drink and she says for sure, because in Alaska, it is never to early, or late to drink. As things progress they undress each other kissing, and fondling each other, Belle always in control and giving the directions. When Lexxi has a few more drinks of her glass she gets into the heavy petting and as soon as she least expects it Belle has her looped around the neck with a silk stocking she keeps in a pair on the arm of the sofa, just in case she has company, andf wants to follow through. Well tonight she is following through and has already started the ball rolling to a new life of serial mischief and sexy young ladies that will die by her hands, and the warm bodies will be prime for sex. As she strangles Lexxi hard, Lexxi fights back, slapping and clawing Belle as she tries to free herself. They move all over the chase lounger and even to the floor, Lexxi is strong but Belle is stronger, more dominant, and has a psychotic edge that comes with her dark secrets. She finishes Lexxi off and even after she is dead she continues to strangle the body as it twitches, then finally still. When she releases the stocking there is a red line where the silk dug into her neck, as well as evidence of the struggle. Her sexy neck is dead and ready to be kissed and sucked on, then move down to the breasts then lick her pussy as she lay dead on the floor. As she tastes her sexiest gal yet, Lexxi's phone rings. Belle is startled but an idea pops into her head. When she goes to the phone she sees it is Lexxi's hot friend Genetica, who was another choice, though she was a bit standoffish at the club, but she looked like she was worthy. Belle makes up a story that her sexy friend came home with her, but got sick and passed out in the bathroom, Belle asks Genetica if she can come pick her friend up and give her a ride home. Genetica obliges and agrees to be there in 20 minutes. Belle quickly stashes the evidence, rolling Lexxi and her things into a rug and dragging her off. She then gets the place ready and re dresses so she looks like she is fresh from the club. When Genetica arrives she comes in, looking around for Lexxi. Belle asks her if she wants a drink, but Gen is really looking for her friend and wanting to go home. Belle says, "well the bathroom is down the hall, she is passed out in there.." As she moves towards the bathroom Belle grabs the stocking from her knee high boot and wraps ity around her sexy pale white neck, pulling her to the chase lounger so she can get a tight grip. Genetica unleashes her fight and oh my! Belle is taken by surprise, but handles Genetica like a pro. The hot sexy gall, dressed in a red fuck me dress, and tall stiletto red heels, toes painted fire engine red, and her make up light and glamorous. She fights so hard, digging her heels in the floor as Belle stretches her out fully, yarding on her neck like a twenty mule team pulling a load of old growth timber. Her muscles flex, veins popping out in her arms, her face beet red from all the exertion. Genetica fights and rolls around trying to get free, her eyes and mouth wide and expand as Belle pulls tighter and tighter on the stocking. After pulling her around a bit trying to kill her, Genetica loses her steam and starts to twitch and spread her toes in the heels. She dies and is completely still, eyes wide and tongue out. A look of shock in her eyes changes to nothing as she dies. Belle immediately starts to get her undressed, removing her dress, then her stilettos, and playing with and sucking her red polished toes. After checking her feet, she removes the panties and goes in for some pussy, but not neglecting her tits and sexy neck with the red mark from the friction of the stocking. As she sucks her pussy the phone rings again, she looks up kinda miffed being disturbed a second time, but a light goes off in her head. She answers the phone, obviously talking to another party girl looking for her two friends. Well, we know where the after party is going on in Alaska this morning. Belle smiles and winks to herself as she says, "yes, I'll text you the address…"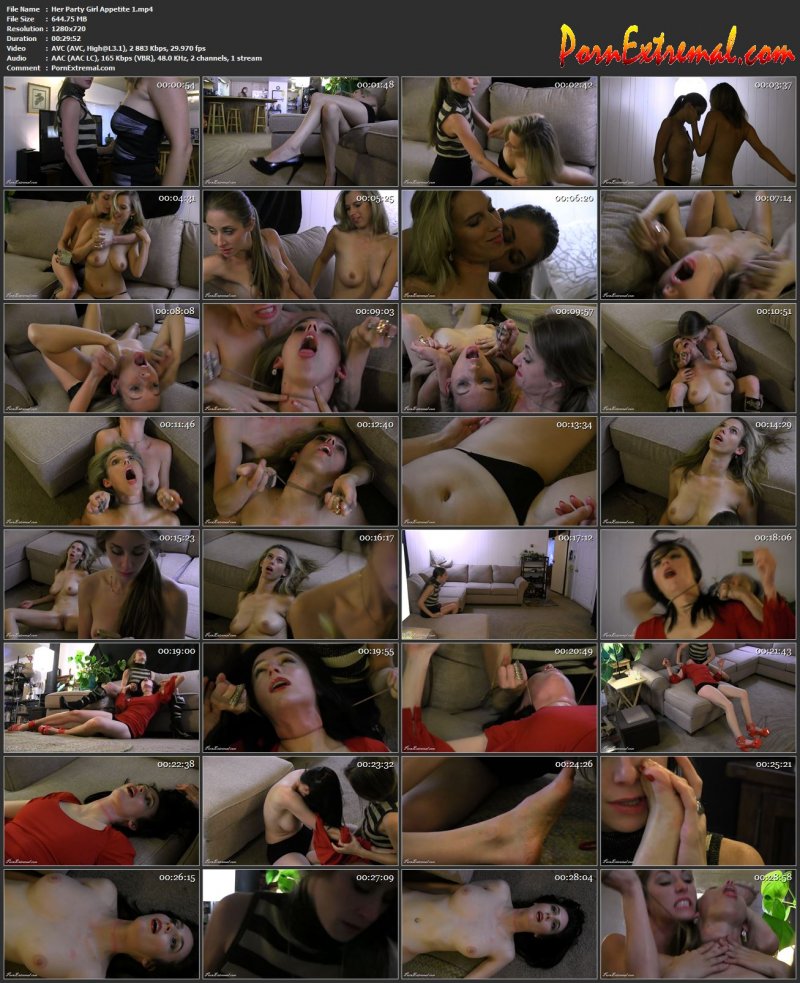 Her_Party_Girl_Appetite_1.mp4