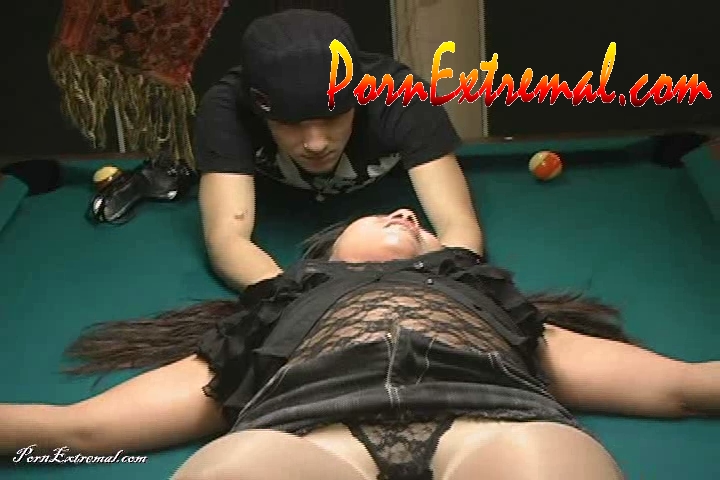 [New, Joint] Chris' Corner – Pool Shark Strangle 3
Categories: Snuff Fetish, Rape, Strangle, Bagging, Shooting, Abused
Description: Another sucker coming to Zander's secret pool hall to get served. This time it's another Asian beauty, his favorite, so he must find a way to win, or someone besides him will have to pay. When Leila arrives she is happy, vibrant, and full of confidence. As she assembles her cue, Zander racks, saying that he is in a hurry and will go a head and break this time. After he racks the balls he goes to the far end to break. Leila pulls a jack move and tells him to step aside, giving him a nice hip bump. She breaks and sends them flying all over, and dropping the 2 ball in the corner to keep it to her advantage. She is fast and efficient in running the table, not missing a beat, hitting bank shots, trick shots, and finally slams the 8-ball into the corner pocket.
Zander stands, mouth agape, with that losing feeling running through his mind. He is baffled, but tells the hustler that he will go upstairs and get her money. She hops up onto the table, with her legs hanging off, so we see her pantyhose, up-skirt, and her open toed high heels. Zander returns, gives her the Hundo for the game, and says once again how surprised he is that she beat him so fast. She tells him, "If you want to lose another hundred, I'll give you lessons". This pisses him off even more, so he calmly walks to the other side of the pool table, preparing his silk ribbon that he was saving for that special pool shark.
He quickly wraps the garrote around her neck, she freaks and starts thrashing, slapping his arms, digging at her neck and kicking her legs violently! Zander bears down and digs the silk ribbon deep into her neck, exposing the jugular vein, and making it look like it is a two-piece! She bucks her hips, grinds her mound, and stiffens her muscles to get out of the hold, but she is no match for this pro killer who strangles all of his victims that join him for a game of pool. After a long bout with Zander and the silk ribbon, she finally gives way to the killer, full of spasms, tongue out, eyes wide open, and bloodshot, from the lack of oxygen.
Now that this part of the fun is done, it is now time to get some warm, dead, pussy. He starts to undress her, getting her ready, then pulling her to the edge, so he can stick his dick into her. Then, he rips a large hole in the control top panty hose, to make way for his member. He gets going and starts slamming her hard, she shakes and shutters as the young man puts it to her. After he climaxes, he leaves the room, and the pussy glistening with her juices. Long sweeping pans of the dead girl are plenty after this lovely strangle/necro!
HOT NEWBIE, PANTYHOSE, HIGH HEELS, SILK RIBBON, POOL TABLE, AND A PISSED OFF PERP..ALL THE MAKINGS OF ANOTHER AWESOME STRANGLE/POSTMORTEM FILM. LOTS OF FOOT VIEWS, PANTYHOSE VIEWS, UPSKIRT VIEWS, HIGH HEELS, PUSSY SHOTS, AND A RIDICULOUS, HARD STRANGLE! THANKS CHRIS!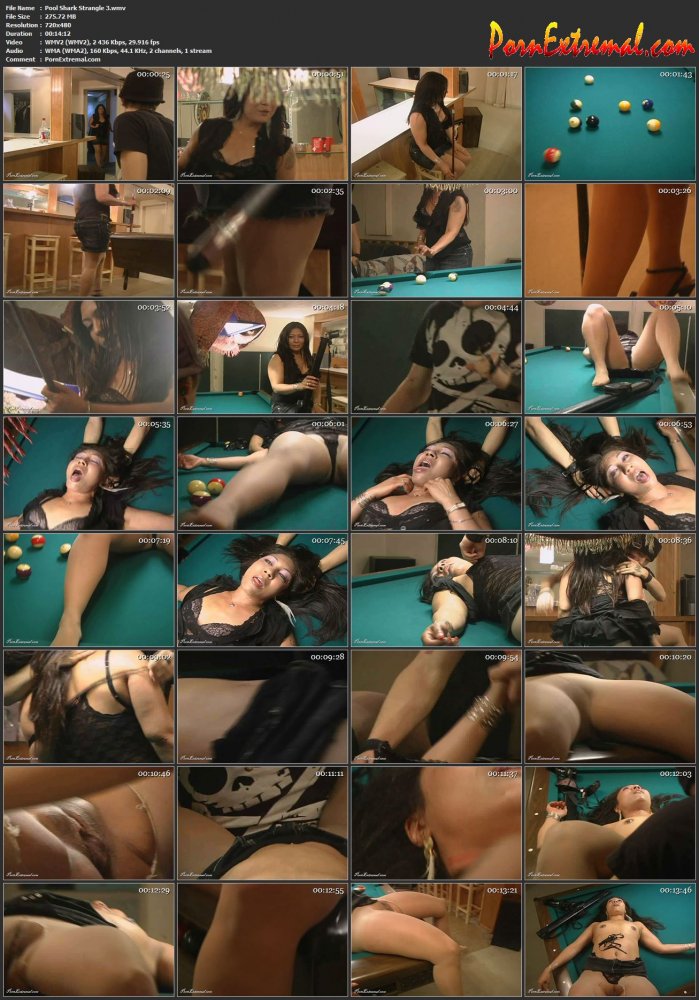 Pool_Shark_Strangle_3.wmv