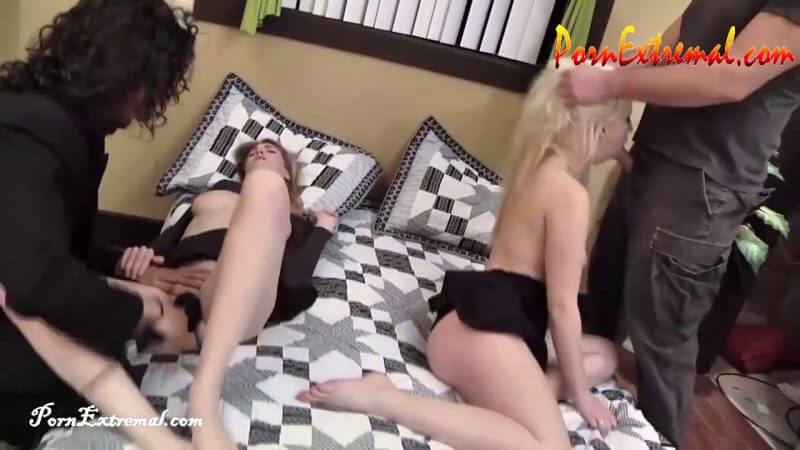 Peachy Keen Films – A Somewhat Simple Plan
Categories: Strangle, Death Fetish, Snuff Play, Shooting, Abuse, Rape, Bagging
Description: Starring Ashley Lane, Darcie Belle, Javier, and Rock
Captain Bottom and Javier are working together on a quick deal with some ladies. Javier has it all set up and Captain Bottom is skeptical, but he assures the Captain he knows what he's doing. Soon, the girls come in who are suppose to have the goods, but instead of handing them over, they use some power that omits a blinding flash of white light, knocking the two villains to the ground. They begin beating them down, kicking them on the ground.
Suddenly Javier tells Captain Bottom to cover his eras and uses a sonic ray that causes the girls to cover their ears and become weak. The two villains carry the girls to the bed, where they decide to give them a good tickling to try and get information out of them.
They tickle the girls well, removing their boots and socks to tickle their feet, making sure to get in their armpits and thighs. The girls still haven't talked, so they step up their game, and take out the big hitachi vibrator. Javier uses it on one of the girls while Captain Bottom forces the other to give him a blowjob. She sucks his dick until she cums on her face, meanwhile Javier is forcing the other girl to cum with the vibrator.
Once they're finished with the girls, Captain Bottom takes his leave. Javier decides he must finish off the girls, so he strangles the first one on the bed, using a bit of rope he had in his pocket. She squirms and struggles, her tits bouncing everywhere as she kicks her legs and gasps. She finally dies right as the other girl is trying to call for help. She's weak and moving slowly, and Javier gets to her before she causes any trouble. Using the same rope, he secures it around her throat and tightens, constricting her airway as she gasps for breath and kicks.
With both girls dead, Javier arranges their bodies on the bed and leaves them.
Fetish Elements: Explicit Sexual Content, Blowjobs, Forced Orgasms, Villains, Tickling, Foot Tickling, Strangle, Garrote Strangle, Rope, Nudity, Cum Shot, Facial, Body Views, Foot Views.