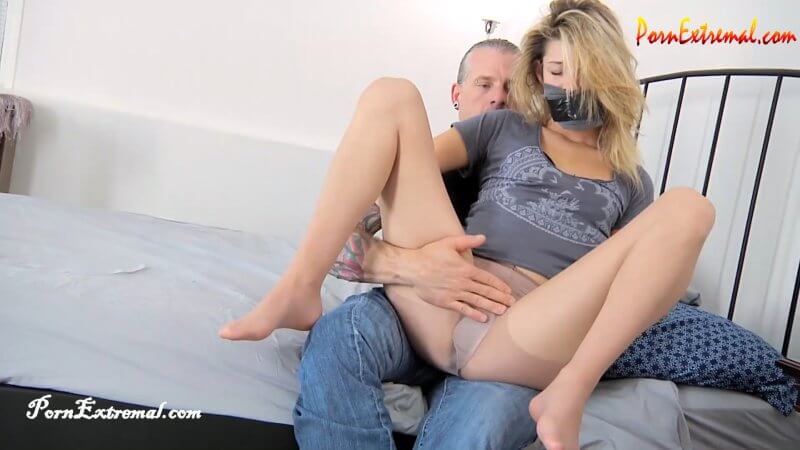 Peachy Keen Films – Aspen Bound And Gagged
Categories: Strangle, Death Fetish, Snuff Play, Shooting, Abuse, Rape, Bagging
Description: Aspen, just in her tee shirt and panties, is putting on her pantyhose, when an intruder grabs her from behind and throws her onto her bed. Flipping her face down, we get a view of her beautiful ass, while the man binds her arms behind her back with electrical tape. She pleads for him to stop, but this only annoys him, so he tapes a gag into her mouth to silence her. Rolling her onto her back, he begins to play with her pretty, nylon-clad legs and feet. He caresses her sexy legs, enjoying the feel of them within the sheer hose. He rubs and squeezes her dainty and arousing feet, the sensation of the pantyhose made exquisite from the warm of her skin.
He removes her pantyhose, sliding the waistband over her shapely hips, down her seductive thighs, delighting in their stretchiness as he slowly pulls them from her feet. Then untying her, he orders her to put them back on. Clearly she is dealing with a madman here. Once the hose are back on, he binds her arms again. Bound and helpless, he hoists her tiny body onto his lap and, spreading her legs wide, begins to play with her pussy. Rubbing her groin through her hose and her panties, her muffled groans of pleasure are still evident through the gag.
Tiring of his sick game, he rolls Aspen up in her own sheets, then tapes them around her, tighter than a mummyТs bandages. Encased in her bed linens, immobilized and helpless, he exposed her head and her slender neck. Using a length of the strong tape as a garrote, he strangles the poor girl. She writhes and grunts, but her struggles are in vain. Limbs restricted, so much smaller than her assailant, she doesnТt stand a chance. Still, the will to survive is strong, and she takes an agonizingly long time to die. Finally, her movements cease, her dead eyes stare into the afterlife, expression slack, the life that once animated her, now gone. The man leaves her there, still wrapped in her own sheets, to go stiff and cold in her own bed.
Fetish Elements:†Graphic Sexual Content, Panties, Pantyhose, Assault, Bondage, Terror, Pleading, Carrying, Rolling, Lifting, Mummification, Garrote Strangling, Foot Play, Body Play, Body Views, Nylon-Clad Foot Views.