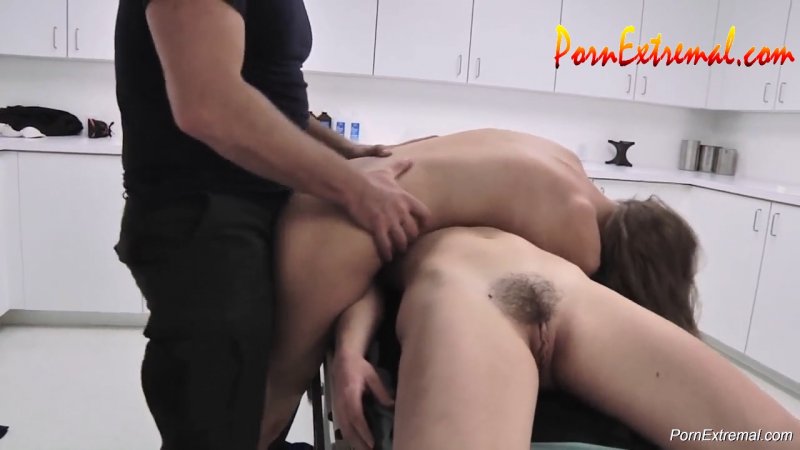 Peachy Keen Films – Caught In The Act
Categories: Strangle, Death Fetish, Snuff Play, Shooting, Abuse, Rape, Bagging
Description: Starring Norah Nov, Lily LaBeau, and Rock
It's late at the hospital and Lily is finishing up some paperwork before her double night shift starts. Her partner, Norah, notices they have a new AED and asks Lily if she'll show her how to use one. Lily agrees, and they head off to the training room to try it out. Norah sets it up and pretends to turn it on before she beings placing the pads on Lily's chest… but what Lily doesn't know is that she's actually turned it on and it's climbing to a full charge.
Norah places the pads on Lily's chest and turns the defibrillator on. Lily's body jolts from the shock, her back arching as the current runs through her. When she turns it off, Lily is unresponsive so she performs CPR on her. She gives her mouth to mouth and chest compressions, checking her pulse and listening to her breathing. She whimpers weakly as Norah pulls out the medical scissors. She begins cutting off all of her clothing, while caressing her with her fingers and mouth.
Once she has cut off her shirt, bra, panties, and pants, Norah pulls off her shoes and socks. She's so turned on now. Lily is so sexy lying there on the gurney… She starts to stir, moaning weakly, so Norah charges up the defibrillator and sticks the pads back on her chest. She sets it to a low voltage- just enough to knock her back out. Her entire body convulses as the energy surges through her, and then she falls unconscious. Now she is Norah's plaything.
Now that Lily is out, Norah puts on gloves and covers them in lube. She slides her fingers into Lily's pussy and starts to fuck her with her fingers.. Then she climbs up on the table with her and licks her clit while she fingers her. But it's not enough, she needs more. So she grabs a rabbit vibrator and starts to fuck Lily with it. Ugh, she's so sexy!
When she's finally finished having her way with the unconscious Lily, she leaves. another EMT, Rock, hears a noise and rushes in to find her unconscious on the gurney with the AED pads still stuck to her chest. He checks her pulse; she's still alive, but definitely unconscious. He stares at her, lying there naked. He can't resist her. It would just be so easy, and she's so sexy. He pulls out his dick and starts to fuck her mouth.
Just then, Norah enters the room, and she's filming him as he fucks the unconscious Lily's mouth. Ha! Caught! Rock panics. This can't get out. No one can know that this happened. What is she going to do with that tape!? He has to end this once and for all, and he has to act quickly. Frantically grasping at whatever's on the counter, Rock picks up a cord and wraps it around Norah's throat. She flails in shock and panic, but Rock is strong and her flailing only helps him situate her on the countertop. He keeps a tight hold on her as she squirms around for her life.
When Norah is dead, Lily begins to come around. Stirring, confused, she looks around the room and starts to sit up. Again, Rock acts quickly. He has to get rid of all the evidence that he was ever here. Using the same cord, he strangles Lily, her body shaking as she tries to smack away his hands, but to no avail. When both girls are dead, Rock realizes he's still horny. And actually, he's even more turned on now. So he peels of Norah's clothes and starts to lick her pussy. It's still wet and tastes glorious. He picks her up and piles her on top of Lily's body. These girls look so sexy splayed on the gurney together like this. He fucks Norah, flipping her over and fucking her, then fucking Lily's mouth, then back to Norah's pussy, until he cums on her belly.
He leaves the bodies behind in a pile on top of the gurney for someone else to find.
Fetish Elements: Explicit Sexual Content, Medical Fetish, CPR, Clothing Destruction, Lesbians, Girl on Girl, Shoe Removal, Sock Removal, Foot Fetish, Knocked Out, Rubber Gloves, Vibrator, Dildo, Pussy Eating, Blow Job, Face Fucking, Strangle, Garrote Strangle (x2), Limp Fetish, Necro, Body Pile, Cumshot, Foot Views, Body Views.