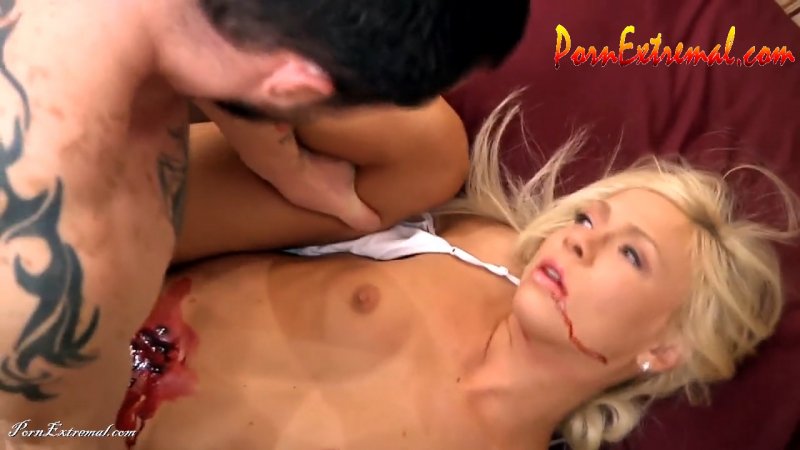 Peachy Keen Films – Coed Slaughter 2
Categories: Strangle, Death Fetish, Snuff Play, Shooting, Abuse, Rape, Bagging
Description: Starring Pepper Kester and Katerina Kay
Directed by JohnM
Several years ago, an insane man burst into a college girls apartment and brutally stabbed two girls.
Now, nearly 9 years later, it's happened again.
Kat and Pepper were waking up after a night of late studying and later partying.
They were stretching—going through their morning routine as collage girls do, when a man comes in, walks up to Kat and stabs her multiple times in belly, then stabs the other girl once in the breast–dropping her to the table in agony.
He then tosses the other girl on the bed and starts molesting her. But, after hearing the moans of Pepper, goes back to finish her off by slicing open her neck. Now with that coed dead, he focuses his attention back on the other noisy one. He stabs her in the breast–through her heart. She struggles for a moment, blood sifting from her mouth, then dies.
He spends time stripping and ripping the clothing off both dead girls.
Now it is quiet. They way he likes them. He positions the bloody, dead coeds legs apart and slights his throbbing cock into her, what could only be described as a tiny, tight pussy.
He fucks her until he bursts, then grabs his things and leaves.
Contains: Nudity, Teenage/Young, Explicit Sexual Content, Stabbing, Throat Slice, Blood, Clothes Tearing, Coeds, Necro Sex, Cum Shot, Body Views, Foot Views.