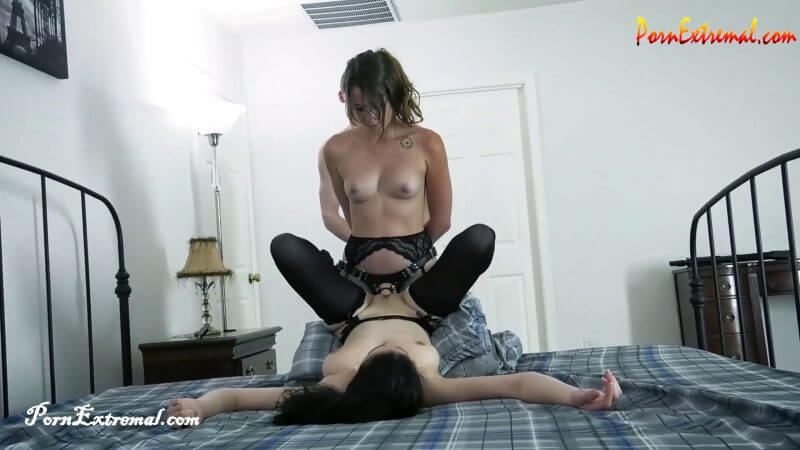 Peachy Keen Films – Do What I Want
Categories: Strangle, Death Fetish, Snuff Play, Shooting, Abuse, Rape, Bagging
Description: Starring Zoey Lane and Mary Jane
Directed by JohnM
Terrified, two beautiful babes huddle on a bed, embracing each other and sobbing as they lament over what they are sure are their last moments. A domineering shadow of a man stands waving a shotgun at them, demanding they stop the tears and put on the lingerie laid out neatly on the bed before them. The two women shaken to their cores slowly undress and don the nightwear, trembling in their pre mortem shame. But the man isnТt ready to end it just yet. The smell of their fresh nubile bodies fills his nostrils inciting him to continue to demand they fulfill his animalistic sexual desires.
Mary Jane dons a leather strap and cock as Zoey is commanded to suck on it. Her lips preoccupy the plastic shaft as he takes advantage of her pert ass in the air, and fucks her juicy honey hole and then her mouth while Mary Jane is commanded to take his place in her pussy. The man fucks Zoey on her back as Mary removes the strap on dick to finger fuck her own pussy as she watches her friends rape. Zoey puts the strap on as commanded by the shotgun wielding man. He watches for a few moments as the girls begin to enjoy each other, Mary Jane mounting the prosthetic phallus and riding it to her last orgasm.
As Zoey fucks her friend, the man pulls a plastic bag down over her head. The bag expands and contracts with her panicked breathing, a fine layer of condensation building up in the bag as she begins to fall out of consciousness and onto the floor. Frightened for her friends life and completely helpless, Mary Jane curls up in a wad on the bed, ball gagged and petrified at what she just witnessed. But the man assures her her friend has not passed as he removes the bag and binds ZoeyТs wrists and ankles. He pulls her onto the desk, bending her over its surface and pulls out his prized weapon. A shiny, sharp, machete.
He quiets the muffled Mary trying to scream through her ball gag son raises the machete. It falls heavy on ZoeyТs neck, her head falling to the floor. The pain, loss and terror of what sheТs just witness lays readable on the still living Mary Janes face as the man approaches the rear of ZoeyТs now headless torso. He thrusts into her, fucking her corpse with a pool of blood still on the desk from the slaughter. Finding her head on the ground he makes a grand show of raising it and skull fucking her mouth. The cool air flows into her open ended esophagus as his cock uses it as a jerk sleeve. With no more use for the two women he decides to end it. He wraps a noose around the permanently traumatized MaryТs neck and hangs her for the door. Her tits bounce and jiggle, her feet shiver and tremor as her somatic responses kick in and her body swings on its own weight shifting in the doorway.
Fetish Elements:аExplicit Sexual Content, Nudity, Forced Stripping, Lingerie, Crying, Terror, Strap On, Lesbian, 2on1 Rape, Female Masturbation, Lesbian, Bagging, Unconscious, Machete, Beheading, Skull Fucking, Necro Sex, Hanging, Rope, Tied Up, Ball Gag, Body Views, Foot Views..