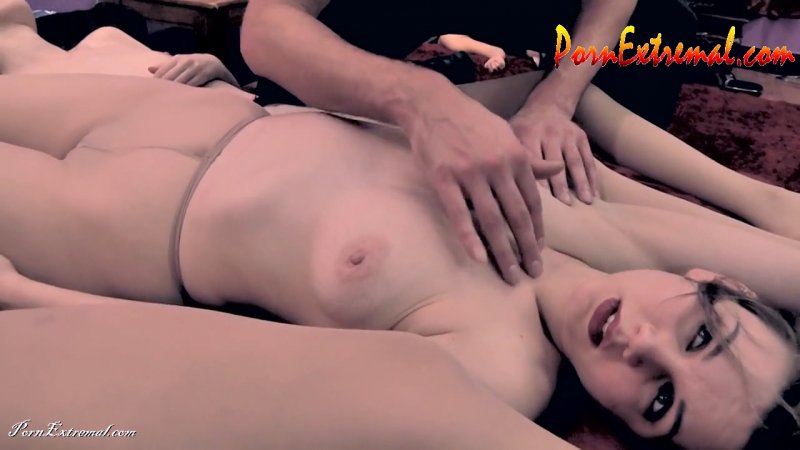 Peachy Keen Films – Execute 4 Girls
Categories: Strangle, Death Fetish, Snuff Play, Shooting, Abuse, Rape, Bagging
Description: Starring Ivy, Aurora, Maizee and Karma
Directed By JohnM
Ivy, Aurora, Maizee, and Karma are putting on their makeup and getting ready for a really fun girls night out and they are already running late. As they head to the door, Vance and Jackson push their way through, brandishing pistols. Frightened, the girls huddle together in the back of the room on a carpet. They won't stop screaming even after Vance tells them to shut up. He executes Aurora first with a bullet to the side of the head.
He asks them which one will be next. They push Ivy front and center and he takes her out. He throws Karma over the bed and she lands with her head on the ground and her feet on the bed. A bullet puts a stop to her pleading. He approaches Maizee and ends her without hesitation, her body falling to the ground. He wants to take his time, but Jackson pleads for them to hurry. Vance banishes him to the car as he gets to work.
Vance begins with Karma, rubbing her pantyhose and caressing her feet. He strips off her dress and carefully touches her pantyhose, running his hands along the length of her legs to the soles of her feet.
He chooses Ivy next, removing her clothes and absorbing the gentle pattern of her pantyhose.
He strips Aurora and brings her to the bed and lays her with the others, fondling her legs and marveling at the skin beneath the hosiery.
Finally, he prepare Maizee, slowly removing her panties to reveal her dyed blue pubic hair. He loves her black pantyhose, his fingers dancing along her skin. He fondles her breasts and the breasts of the other girls before exiting, the job done right.
Fetish Elements: Sexual Content, Multi-Girl, Girls Night, Makeup, Intruders, Pistols, Headshot, Multiple Headshots, Execution, Blood, Death, Necro, Pantyhose, Pantyhose Fetish, Stripping, Nudity, Fondling, Body Views, Foot Views.