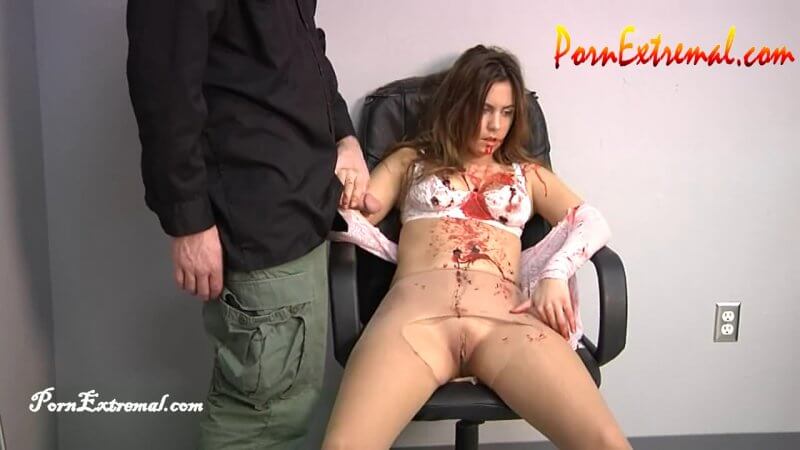 Peachy Keen Films – Executing My Secretary
Categories: Strangle, Death Fetish, Snuff Play, Shooting, Abuse, Rape, Bagging
Description: It's Amber's first day at the job and all she has to do is answer calls. Her boss tells her how important it is to read the employee manual.
Of course…she doesn't.
Instead, she visits one of her favorite cam sites and starts a session with a huncki452. While she is giving him a little show, the Boss watches her on surveillance camera from his office.
She violated his rules, so she must pay the price.
He confronts her, silenced gun in hand. It takes a little coaxing, but soon she goes from thinking it is a joke to terror. She offers to pleasure him and of course, he lets her. She does an ok hand job, but he wants real action. He forces her to suck him off, emptying his load in her mouth. She lets his cum spill out of her mouth on her big chest and he forces her to rub it into her skin and clothing for his amusement.
He takes out of the room into the storage area. He does not waste too much time before shooting her twice in the chest. Of course, he has his low velocity ammo loaded. It does not go in to far, at least not at the range he was at. But, it left two beautiful holes in her chest and her wounded and staggering to stay up. He helps her stand, the shoves his erect cock against her pantyhose-covered lets. He loved the feel of pantyhose fabric against his ranging boner.
When he tied of this, he stepped back and shot her twice in the belly. She was jolted back against the wall and pissed herself. Now she sank down into the puddle and fell to the side. He got her back up and molested her some more while she suffered. As he rubbed her pussy, hot urine poured through his fingers and spattered on the floor around her feet.
After rubbing her and playing with her tits it was time to finish her. He stepped back and shot he three more time. She slid down, now severely wounded. He let her bleed out and spasm on the floor for a bit, then decided to finish her off. He pressed the muzzle under her left breast and fired two point plant rounds into her heart. She shuttered, then was dead.
He put her in a chair, then fucked her mouth until he came all over her tits. Later, he cut and removed her clothing and cleaned her wounds. He left her sprawled in the chair to clean up later.