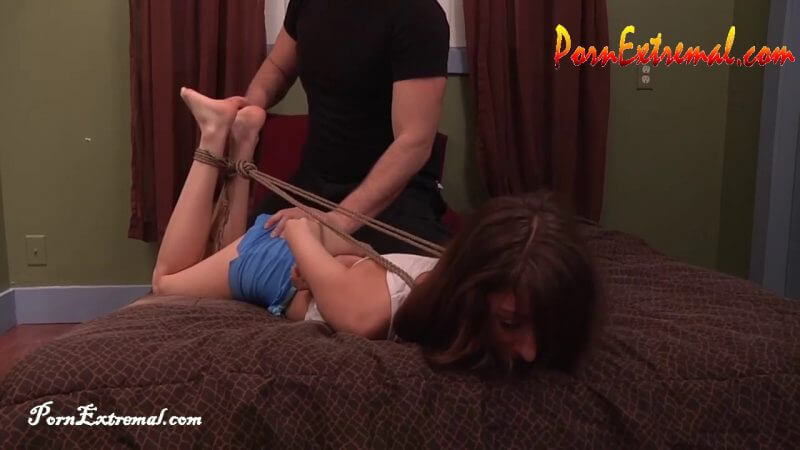 Peachy Keen Films – Foot Fucked And Strangled
Categories: Strangle, Death Fetish, Snuff Play, Shooting, Abuse, Rape, Bagging
Description: Willow has been kidnapped, her captor has hogtied her, and put duct tape over her mouth, with a rope attached from her ankles to around her neck, making it so when she pulls her legs back it strangles her.
Her captor comes in, and runs his hand along her sexy body. She cries and struggles, but he grabs her feet and pulls them back, causing her to choke. He takes her socks off and runs his hands along her soles.
He pulls out his cock, and rubs it all over her soles, then places it between her bound feet and starts pumping them on his cock.
Every stroke chokes Willow, her tears cause the duct tape to fall away, and she opens her mouth gasping for breath.
He torments her further by pulling her legs back and fucking her soles while she chokes.
Willow's eyes glaze as the rope tightens around her neck, he keeps fucking her feet as Willow gets closer and closer to death.
He gets more excited as her toes and the muscles in her feet twitch around his cock, and he hears her weak gasping and fucks her feet harder until she lies still, dead.
He fucks her feet until he cums, then lays her on her back still tied, and exposes her sexy boobs, then he leaves to find another victim to foot fuck and strangle
Fetish Elements: (SC) STRANGLING, BONDAGE, HOG TIE, BARE FEET, FOOT FUCK, PERIL, CATCH AND RELEASE, BODY FONDLING, DEATH, BODY VIEWS