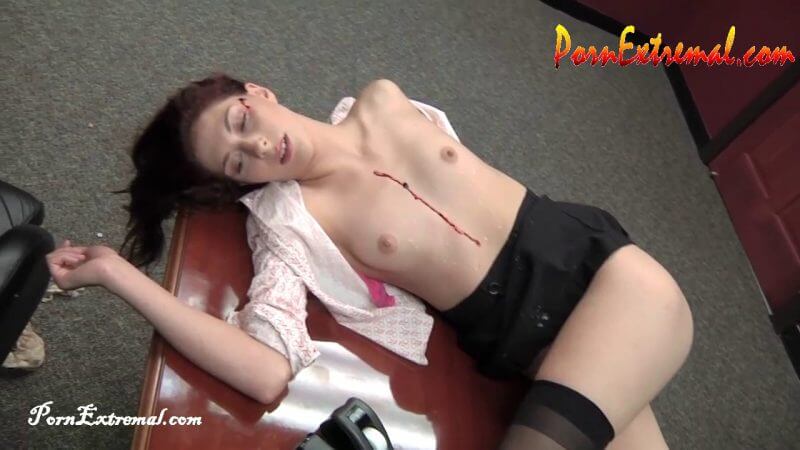 Peachy Keen Films – Foot Fucking A Vegetable
Categories: Strangle, Death Fetish, Snuff Play, Shooting, Abuse, Rape, Bagging
Description: Ashlyn is at work looking over the numbers for her boss. She finds something odd, it seems like someone is funneling money out of the company, and lotТs of it, so she calls her boss to see if he knows of anyone stealing money.
He comes in and she shows him the proof, he tells her that it canТt be and that she should keep checking to see if it is true. While she looks through the reports, he grabs a pistol from out of his desk and gets up and stands behind her.
Knowing that there is no other option, he lifts the gun to her head and apologizes then pulls the trigger.
Ashlyn falls down on to the floor convulsing, the bullet didnТt kill her, she twitches on the floor. He picks up her nyloned feet and figures to use her while he still can. He pulls out his cock and starts rubbing it in between her soles, but the sounds she makes really throws him off, so he picks up his gun again and shoots her in the chest, killing her.
He picks her up and lays her on the desk and starts to fuck her dead pussy. He feels her body while he fucks her corpse faster and harder until he cums.
Fetish Elements: (HC) SHOOTING, NYLONS, FOOT FUCKING, STRIPPING, TWITCHING, HEADSHOT, NECRO FUCKING, BODY MOVING, BODY FLOPPING, BODY VIEWS