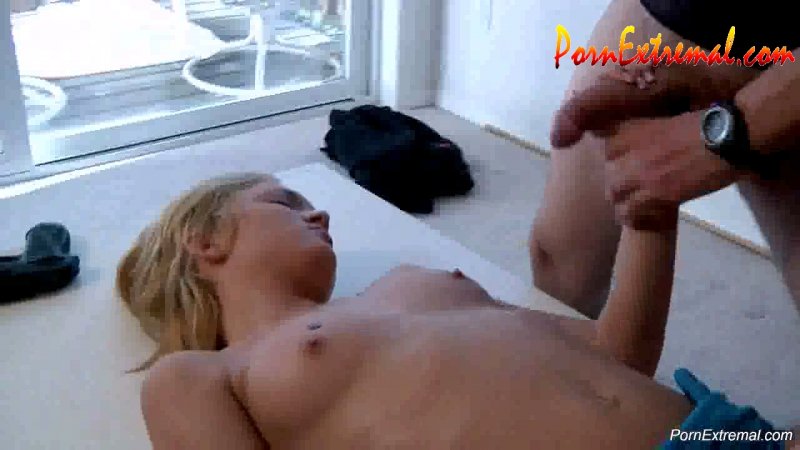 Peachy Keen Films – Girl in a Leotard
Categories: Strangle, Death Fetish, Snuff Play, Shooting, Abuse, Rape, Bagging
Description: Starring Dakota Skye
Directed By John Marshall
A young gymnast girl walks out into a room to do some stretching.
A man watches her.
After a bit, he shoots her with a tranquilizer dart and she collapses, her young firm ass in the air inviting him to her.
He explores her for a bit, then carries her into another room and lays her arched across his lap while seated. He plays with her pussy, rubbing, fingering. All the while, the girl lays motionless.
He puts her on the table, then plays with her some more, licking her pussy. She wakes up, groggy, trying to understand what is happening. She sees the gun, and is scared. She lets him keep going.
But, he is not satisfied. He gets up, and shoots her in the chest. he is in pain, but he continues to pleasure her.
He shoots her again.
She is weaker, but still reacting to his stimulous. He places her hand on his erect cock. He makes her stroke it.
After a while, he shoots her while her hand clutches his cock. She squeezes hard in reaction, then her hand drops off.
She is not dead, but nearly so.
He pulls her head back, and fucks her mouth. When he is about ready to cum, he shoots her in the head. He cums in her mouth.
She is dead.
Now for the fun.
He rolls her over on her stomach, lifts her ass up and fucks her tight young pussy.
After a while, he flips her onto her back and fucks the dead gymnast some more until he is satisfied. He leaves her sprawled out on the table for someone to find.
Contains: Violence, Nudity, Teen/Young, Explicit Sexual Content, Stretching Leotard, Gymnast, Blow Dart, Unconscious Fondling, Fingering, Pussy Licking, Shooting X4, Forced BJ, Necro Sex, Body Views, Foot Views.