Peachy Keen Films – Guilty
Categories: Death Fetish, Necro, Brutal Amazons, Fantasy Snuff, Petra
Description: A woman is condemned to die.
We see her at her sentencing.
We see her last moments in her prison cell.
We watched her get sprayed down with cold water in a dank washroom.
We watch the execution prep his station and acknowledge the witnesses.
We watch the condemned as she is led into the chamber, disrobed and strapped into the chair.
We watch the electrode inserted into her flesh that will deliver the deadly juice this will kill her.
We watch the countdown. 3…2…1.
We watch her fry.
After she is dead, the executioner checks her pulse, but is shocked to find her still alive. Quickly, he pulls the switch and fries her some more. This time, when he turns it off, she is frothing at the mouth.
As executioner and guard unstrap her, she urinates all over the chair and floor in a dramatic surge of yellow liquid.
They finish.
In the morgue, her pulse is checked on more time. She is pale white, staring blankly, no pulse. She is very dead.
The guard comes in and photographs the body.
Later, the medical examiner comes in. He goes over the body, touching her with bare hands, perhaps to get his kicks momentarily before wrapping her in plastic.
Later, her body was to be incinerated.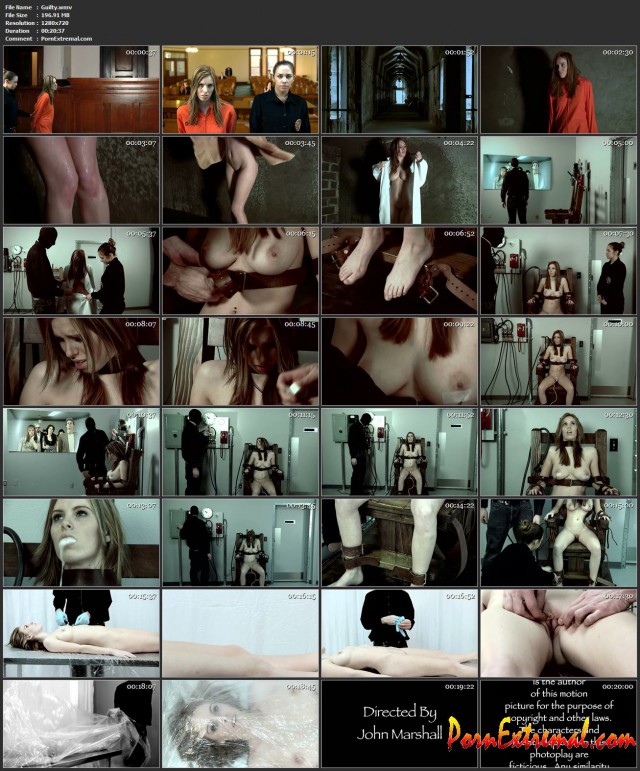 Guilty.wmv