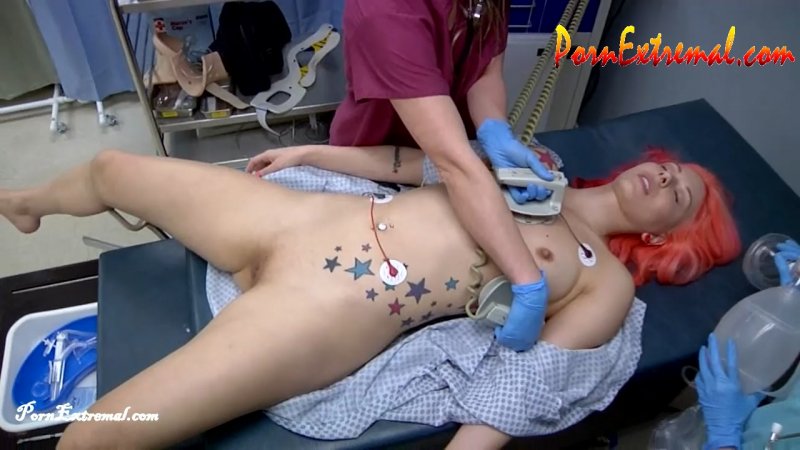 Peachy Keen Films – Gyno Surgery Death Necro
Categories: Strangle, Death Fetish, Snuff Play, Shooting, Abuse, Rape, Bagging
Description: Starring Belle
Directed by John Marshall
A young woman is in the ER. She is complaining of sever lower abdominal pain. The doctor tries to assess her, but she is in too much pain, so he calls the nurse. She gives her something for the pain and he continues to check her out while the nurses hook her up to monitor and oxygen. He lubes up and inserts a speculum in her vagina. They do an ultrasound. He sees the problem and is confident he can take care if it with a minor procedure.
The give her anestesia, but she has a reaction and goes into spasms, then codes. The doctor backs away as the nurses work on her. They give her chest compressions, ambu bag, and shock her. Eventually, the get her stable, yet unconscious.
The doctor begins the procedure, sliding metal scoops down the speculum in a careful attempt to scrape out the foreign object attached to her vaginal wall that is causing all the pain. It is a touchy procedure and he must be very careful not to create a puncture.
Suddenly, she goes into spasms again, and then codes. He is in the middle of the procedure and cannot stop. The nurses must work to revive her while he performs this delicate procedure. After several minutes of working on her while the nurses give chest compression and use the manual breather, he is finished. He then instructs them to shock her in a last ditch attempt to save her life. After several round of shocks, they finally call time. She is dead.
The doctor comes back in, clearly disappointed that his patient has died. After the nurses leave, he repositions her, then slides his cock in and out of her welcoming mouth. After a but he flips her over and fucks her from behind until he unloads deep inside her. Yep, he things to himself, he did a great job fixing her pussy. He repositions her and leaves her spread on the gyno table.
Contains: Nudity, Eraphic Sexual Content, Resuscitation, CPR, Defibrillation, Vitals Checking, Hospital, Medical, Pussy Exam, Spasm, Medical Death, Fondling, Necro BJ, Becro Sex, Body Views, Foot Views.