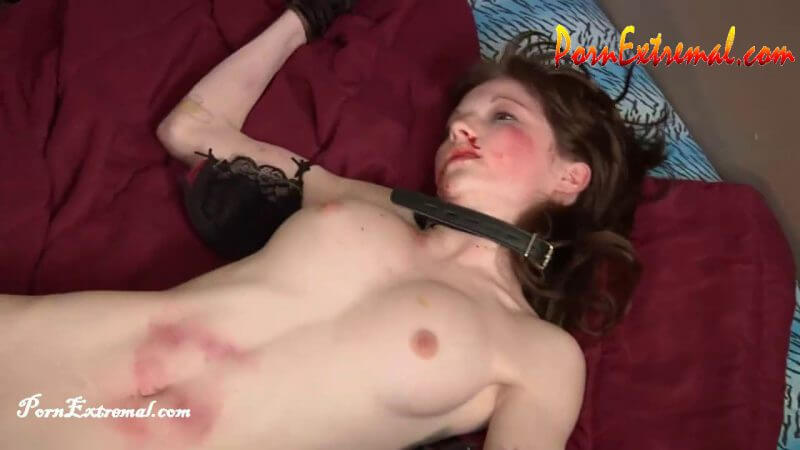 Peachy Keen Films – Hogtie Killer 7 Part 1
Categories: Strangle, Death Fetish, Snuff Play, Shooting, Abuse, Rape, Bagging
Description: The cops little sister had run away from home. She had been staying with a relative for protection. She did not know why. She just knew she was missing out on her high school social life. So, she ran away to her actual home. No one was around. She got ready to go out with her friends to a youth club.
While she waited, she put on her makeup, brushed her hair and got dresses, slowly slipping on some back lace top thigh highs and some back gloves. While she was waiting, her sister called her to chastis her for running away. It was no big deal, she thought.
Later, there was a knock on the door. She thought it was her friends. She was way wrong. The killer, slugged her in the gut, then proceeded to beat her senseless for several minutes. At one point, she was able to get a hit to his groin, but that just made him madder.
Once she was unconscious, he tosses her up on the bed and tied her up.
He had plenty of time to mess with her and as he did, she woke. She was panicking, sobbing, begging him to stop. But, he would not. He pressed her for the info about her sister, but she claimed she had no idea. He did not believe her and started torturing her with his trusty taser. All over her body he tased her, but she would not–or could not tell him anything.
He takes out a knife and torments her with it, ultimately cutting off her bra and panties.
He took a break and started to explore her pussy. She told him she was a virgin. He had no idea why–like he would want to stop or something. Not at all. He jammed his finger into her tight pussy and pulled it out with some *****. She was telling the truth. He continued to finger her and incorporated the taser. At one point, he actually shocked himself. That made him so mad, he tasered her into unconsciousness. While she was out, he searched her apartment.
At this point, he gave up trying to get info. Now, he just wanted to have fun. In a drawer, he found a dildo and a massager. He used the dildo on her first, the the massager–forcing her to orgasm.
Now, he decided it was time to test her dick sucking skills. He ****** her to suck in cock in various ways, jamming it down her throat and making her gag. Finally, when he was done, he got her back up on the bed for more fun.