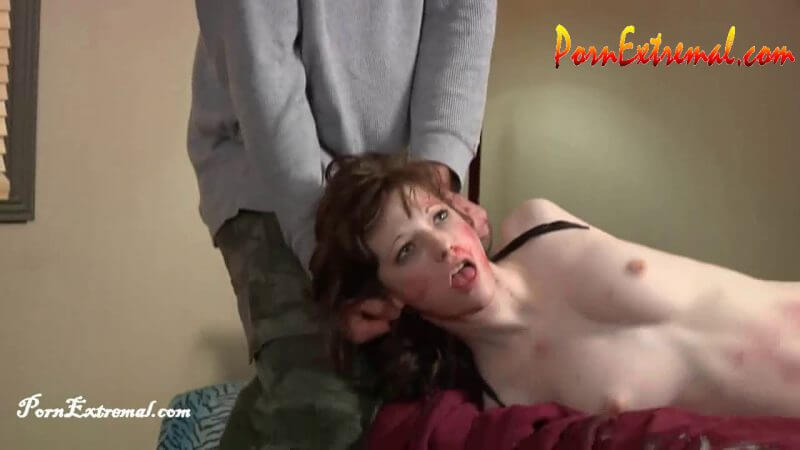 Peachy Keen Films – Hogtie Killer 7 Part 2
Categories: Strangle, Death Fetish, Snuff Play, Shooting, Abuse, Rape, Bagging
Description: After all the foreplay, he was ready for the real action. This cunt did not know anything, so he might as well properly take her virginity.
He pulled her up for some doggie style action. He boner was fed by her screams and cries. He could not have had a better victim. They just got better every time. From 30 something district attorney to the girl that could have been her daughter. Fuck yeah. He rammed her tight virgin (was) pussy until he tired of that position, then he flipped her over and fucked her missionary. When he was done and she was a sobbing ball of worthlessness, he decided he could have her one other way. And she saw the look and begged him not too. But, he already made up his mind.
He flipped her back over and stuffed his 9 inch cock in her tiny little ass. It was painful for her, but felt fucking awesome to him. He rammed her tight ass in and out, in and out. She was so clean and tight, it was ashamed what he would have to do to her later.
When he returned, he had her phone. He redialed the last number and taunted her cop sister. She would not be able to save her little sister–and then, he was coming for her. This could not have worked out more perfectly.
But, now, it was time for the song and dance–the dog and pony shot, the…whatever the fuck it was called.
Girl…blah, blah, blah, if you suck my dick real good, I will let you live. Well, it sounded differently to her, but he used that cheesy lying line so many times now. And, they all believed him. They had no choice. They all want to live. It's as strong as a belief in a deity. He laughed to himself silently the tight hot teenager slobbed his throbbing knob.
He kept having fun with her–their time was running short. At one point, he jammed it in far and held it until her eyes were rolling back in her head. Finally, he released his load in her mouth and like the rest she spit his man gravy out. That part always helped in his justification for killing them. If one of them actually swallowed–we, he would still still kill them, but hey, gotta respect a swallower.
He rapped the rope around her next and the surprise look in her face was priceless. The, she fucking struggled. She was tough, but had no leverage, or hands to use. He had it digging in her throat, he had no idea how she was lasting so long. Then, she managed to get her hands free. He was caught a bit off guard by that, but kept it tight. She started spasming and he know it would be down hill. She slowed and slowed. He was able to switch to a one hand hold while he fingered her tight, violated pussy.
She finally dies, starring blankly. It was probably a relief for her after all he put her through. He guided her to the floor, then spent time removing all his ropes.
He lifted her back on the body, spread her out, then grabbed his things and left. Off to San Fransisco to find her sister and hopefully, the last. Of course, if he runs into any hotties on the way, he might make an exception. After all, after 2 years of killing, he knew nothing else. And, most of all–he liked it.