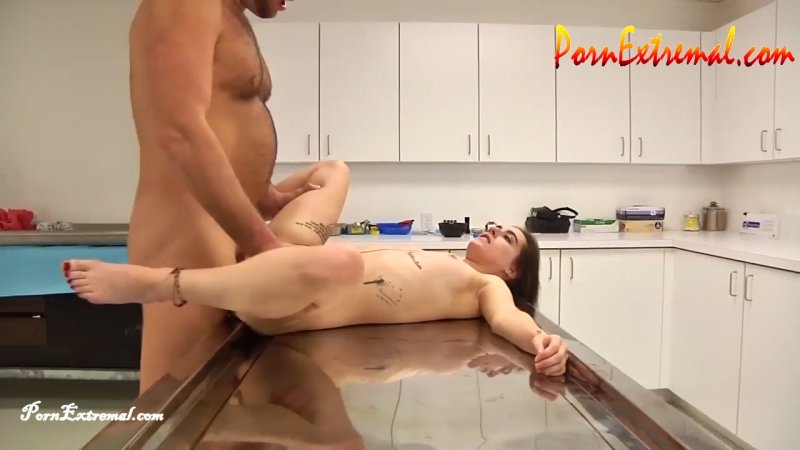 Peachy Keen Films – It Was Your Mistake
Categories: Strangle, Death Fetish, Snuff Play, Shooting, Abuse, Rape, Bagging
Description: Starring April May and Rock
Dr. May is working in her office when Nurse Rock enters to let her know that he is going on break. She is angry that he won't examine the cadaver that just came in. She says that she is done with his nonsense and fires him.
He begs her to let her keep him on board. She decides that there is something he can do for her. She makes him strip naked. He is hesitant at first, but begins stripping. She then makes him kiss, lick, and worship her shiny black boots. She starts to fondle her own breasts as this starts to turn her on.
Nurse Rock takes an oxygen mask and puts it over her mouth and she takes a deep breath, getting a sense of euphoria. He begins to tickle her chest and legs and feet.
He's always fantasized about what her feet would look like so he zips off her boots and worships her feet, kissing them, licking them, sucking on them. She starts to stroke his cock until its rock hard as he rips her clothing off. He devours her pussy, licking and sucking on her clit. He tickles her again as she strokes his cock, making it even harder.
He climbs on top of her and begins fucking her in a variety of positions until he cums on her feet. She licks the cum off her feet to his satisfaction. All is well…
EXCEPT…a few days later Dr. May says that what they did was unacceptable and that she is still going to fire him. Outraged he attacks her and kills her by pumping her full of laughing gas until she overdoses.
Later that day, Nurse Rock is in the morgue attending to a body only to discover it is the lovely Doctor's! He strips it, admires her toes, fondles her breasts and cleans her with solution.
Once the autopsy has been completed and her Y-incision closed she is brought to him again where he necro fucks her feet and her pussy until he cums. He cleans her up and dresses her to be taken off to the funeral home in a cute outfit.
Fetish Elements: Explicit Sexual Content, Doctor, Nurse, Boots, Boot Fetish, Boot Licking, Stripping, Handjob, Tickling, Pussy Fucking, Pussy Eating, Feet Worship, Feet, Foot Fetish, Doggystyle, Cowgirl, Reverse Cowgirl, Cumming, Cum Eating, Struggling, Laughing Gas, Death, Overdose, Morgue, Cleaning, Necro, Bag, Y-Incision, Autopsy, Necro Fuck, Foot Play, Dressing, Murder, Body Views, Fondling, Foot Views