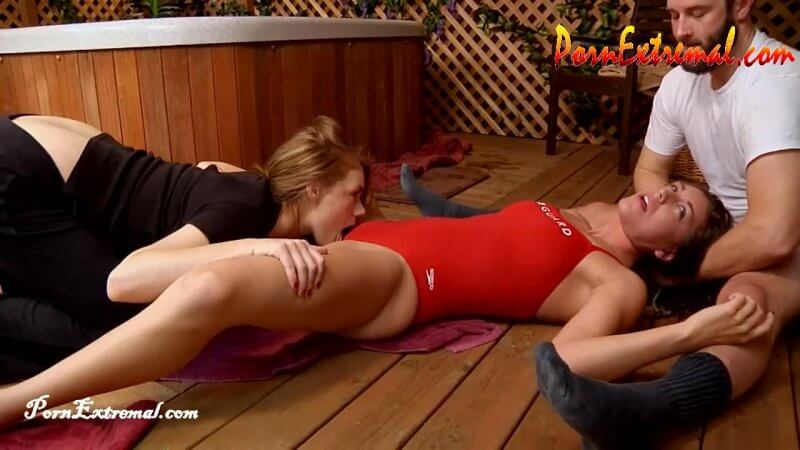 Peachy Keen Films – Kill The Lifeguard
Categories: Strangle, Death Fetish, Snuff Play, Shooting, Abuse, Rape, Bagging
Description: The lifeguard soaked in the jacuzzi, a private room located off the main facility for staff. As she relaxed, her ex-boyfriend and her once best friend snuck in behind her.
It seems things went bad and she spread some lies about them. Now, they were getting even.
The rope, quickly around her neck and she was being strangled viciously by her ex-lover as her friend watched her struggle. He pulled so hard she was lifted partially out of the tub and arched over the edge.
When she was finally out, he lifted her up and carried her to the floor. Then, he stuck his cock in her agape mouth. But, she started to wake, so her ex-friend went around behind her and started strangling her.
As she was being strangled, he stuffed his cocked in her mouth, fucking her while she was gasping for air.
After a while, he traded with her and took the rope while she went down between the lifeguards legs and sucked on her wet pussy as her body spasmed.
Finally, the lifeguard was dead. The ex-boyfriend finished in her mouth, leaving a little trickle of cum running down her cheek.
They left.
Later, he came back. At one point, he had loved her and wanted to hold her again. In the jacuzzi, he cradled her dead body, watching her hair float so peacefully in the water and admiring her body one more time.
Later, he fucked her corpse and while he missed the sex that he had with her when she was alive, he could not complain as he let his cock slide in and out of her tight pussy without the distraction of her mouth forming words.
He left her floating in the jacuzzi.
Contains: Violence, Nudity, Explicit Sexual Content, Garrote Strangling to Unconscious, Garrote Strangling, Forced BJ while Strangling, Forced Oral while Strangling, Necro BJ, Necro Sex, Foot Views, Body Views.