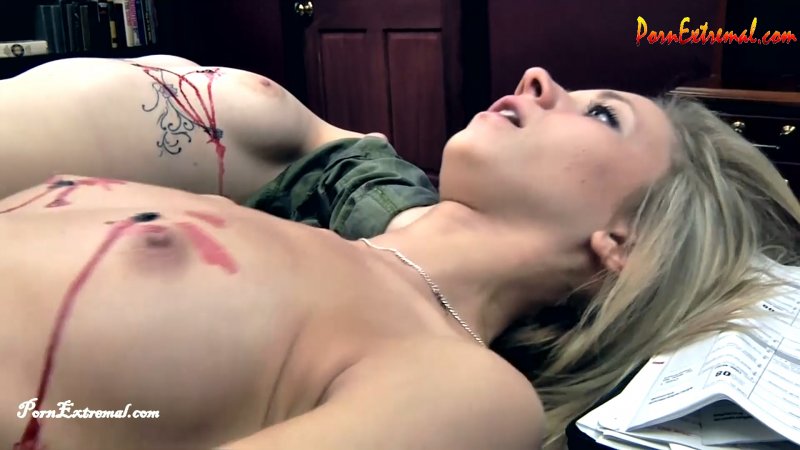 Peachy Keen Films – Killed And Fucked Interns
Categories: Strangle, Death Fetish, Snuff Play, Shooting, Abuse, Rape, Bagging
Description: Starring Nora Riley, Rachel James, and Lily LaBeau
Directed by JohnM
It's Saturday and accountant interns Nora and Rachel have tons of paperwork to fill out, their boss is killing them! They divide up the paperwork and get down to business making small talk about their lack of pay, Rachel's ill mother, and Nora's move.
All of a sudden the door bursts open and Miles enters screaming about someone, perhaps one of them, messing up his taxes and now his house is in danger of being repossessed and he's headed to jail. But they're just interns. they don't have too much control over that. He doesn't seem to care much as he draws a pistol and points it at Rachel. He doesn't feel sorry for them as his date with jail is fast approaching. He shoots Rachel in the chest three times and then turns his gun on Nora putting a bullet between her eyes.
He puts Nora on the desk and adds two more bullets into his chest before stripping her naked and fucking her. He lifts her legs, sucking on her pantyhose surrounding her toes, using her feet to jack himself off.
He grabs Rachel and opens her blouse before picking her up and placing her on a desk chair. He opens her mouth and shoves his cock down her throat.
He decides to fuck Nora again, facing her towards Rachel so she can "watch".
Lily, unfortunately, comes into the office demand the girls finish up that paperwork, but she is only met with their dead bodies and a bullet to the head. Miles bends down and rips open her shirt, sucking her nipples until they get hard. He strips her skirt and rubs his dick over her penthouse and underneath the crook of her knee.
He next puts Rachel on the table and fucks her next to Nora. He pauses to put Lily on a back table and resumes fucking Rachel, climbing on top of the table himself to get a deeper angle. He plows into her pussy until he cums inside her, his body dripping sweat.
He repositions Nora and Rachel until they are perfect on the table. He gets dressed and leaves.
Fetish Elements: Explicit Sexual Content, Working Girls, Multi-Girl, Shooting, Multi-Shooting, Gunshots, Blood, Headshot, Stripping, Fucking, Pantyhose, Foot Job, Nipple Sucking, Necro Fucking, Necro, Body Views, Foot Views