Peachy Keen Films – Little Runaway
Categories: Death Fetish, Necro, Brutal Amazons, Fantasy Snuff, Petra
Description: She was just a young thing, probably barely legal, a little runaway that he picked up at the bus station. He hung out their often, it was one of his hunting grounds. This was perfect. She needed to get from Sacramento to Pensacola, but was about $70 short. Well, he swooped right in. He would help her. He would help her, but she had to do a little something for him.
He was a smooth talker, a sociopath by any definition, and, something else,–she would soon find out.
She was shy, her voice was high, with slightly broken speech–no wonder she ran away from home. What happened to her when she was a young–who knows. Her could guess though, and that made her perfect for his little game.
On the bed, she lay there and he touched her so gently, carefully…he did not want her to panic, he liked to keep them calm.
He got her to give him head. That was nice. She did ok, she was so young compared to him, it heightened the experience for him. Then it was time for sex–she actually suggested it…she was anxious, she needed to catch her bus, she wanted her money so she could go him and see her parents, her puppy, her little brother. The violins were playing.
She was a virgin. This was perfect. They were rare at this age, but he would take it, take her, for the first time. A little look came out when he broke her hymen. There was pain, discomfort in her face. It got a little better for her, she away looked uncomfortable. It was great for him as he shot his load up inside her tight, wet pussy.
They were don, she sits quietly on the bed, looking so violated and innocent. She asks for her money, she has to go now.
He pulls his gun out of the dresser, spins around and shoots her dead.
The hold appeared in the middle of her chest. It was a big hole. He had a big gun. She flew back. Twitched. Then, she was still. She had a nice stare, her mouth slightly open. Now he could have some more time with her.
He called it in. He worked at the morgue. It was the best job. He found her on the side of the road, fresh, he made up a story and he brought her in. It was late, no one was around.
Room 8 was his favorite. Quiet, except for the construction upstairs.
He got to work on her, nothing official he needed to do really, he was just a gopher with an access pass after all. It helps to have a parent who is an administrator. He loved his life.
He played around, mockingly doing the report on her. He said on the phone when he called it in that it looked like an OD. They will laugh that he missed the big gunshot wound to her chest. Oh well, he was charming, they always forgave him. Maybe next time he will poison the girl–he changes it up from time to time.
He gave her a quick mock exam, but really his interest was in her. Her body was so adorable. He loved the whole process. He found this very alive girl, so innocent, she just wanted to go home..awwww. Then, he took her virginity away and took her life away. Now he would take anything else that remained. That is what he loved and he set about exploring her, sucking and licking her. He slipped his cock into her mouth and fucked it. Then, he fucked her again. He came all over her in a massive surge, covering her from pussy to face.
He cleaned her up, got her straightened out, then said his goodbyes. It was time to go, find another. He did not always kill them, in fact, most he did not. But, he certainly liked taking advantage of them, of the innocent. Breaking them was half the fun. He could kill them anytime. Killing people was so easy. It was the other stuff that was the challenge. He bid her farewell and left.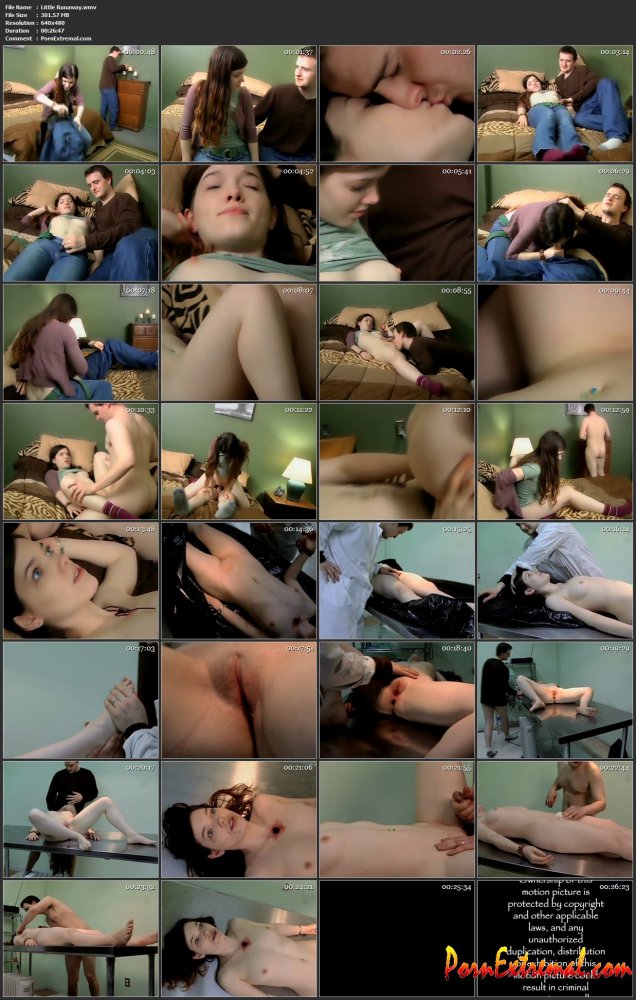 Little Runaway.wmv