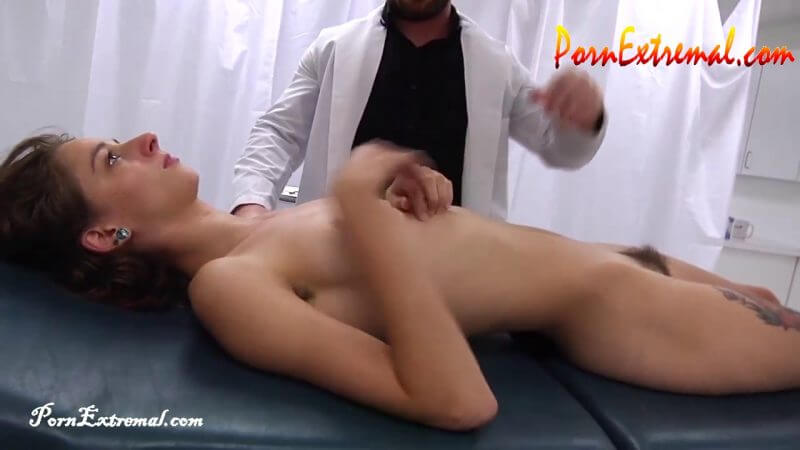 Peachy Keen Films – My Tennis Elbow Is Killing Me
Categories: Strangle, Death Fetish, Snuff Play, Shooting, Abuse, Rape, Bagging
Description: Starring Willow and Miles
Directed By MaX CoXXX
Willow is a young athlete. She's slender and pretty, but has been over exerting herself. She's got some pains above her shoulder and needs to see a doctor, because the pain is getting unbearable. Luckily she's got Dr. Miles at her side, who'll put her pains to rest!
First he lays Willow out on his examination bed. She points out the pain and Miles feels around. He listens to her breathing through his stethoscope before deciding that she needs an injection to ease the pain. He inserts the needle near the source of the pain, and pushes down on the plunger with his thumb. This sedates Willow to the point of unconsciousness.
Miles decides to give Willow a full body examination free of charge while she rests. He strips her down and feels around her body for any peculiarities. So far, everything feels pretty nice Miles thinks to himself. She's beginning to wake up though, so Miles decides to give her another injection. This one may have been a bit too strong for Willow, sending her into a fit of convulsions. Miles tries to resuscitate as things don't look good for Willow. Still, a doctors day is never done, and he continues with a more thorough examination.
He shines a light in her pussy, spreading her lips and showing her hole. Miles decides to feel around inside, checking for any irregularities. Miles' fingers aren't long enough for a thorough examination, so he decides to use his erect tool, and pushes it inside of Willow's mouth and pussy, making sure everything checks out.
Looks like everything was going well inside, because Miles was able to build up to a satisfying conclusion of his exam.
Fetish Elements: (HC) Injection, KO, Stripping, Examination, Breast Massage, Foot Fetish, Death, Mouth To Mouth, Compressions, Necro Fucking, Necro Blow Job, Body Views Body Views.