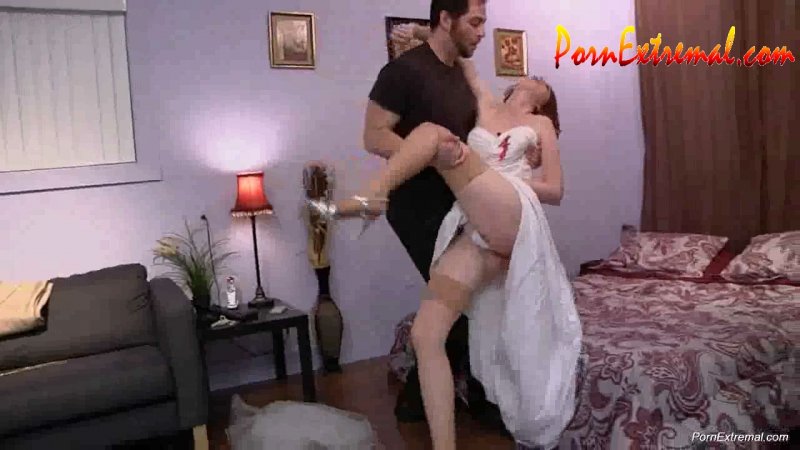 Peachy Keen Films – Shoot The Bride
Categories: Strangle, Death Fetish, Snuff Play, Shooting, Abuse, Rape, Bagging
Description: Starring Alana Rains
Directed By John Marshall
The bride was drunk. She had left her would be husband at the alter, went to a bar, got sloshed and now was at home chatting about the ordeal on the phone with a friend.
A hitman was in the apartment. Revealing himself, he grabs the phone, tosses it away and has his silenced gun leveled at her chest. She is stunned, but soon realizes this is a dire situation for her.
The man likes to give his victims a sense that they have a chance to live, so he pulls out a quarter and makes her choose heads or tails. This intensifies her panic and confusion even more. She chooses wrong.
He instantly fires to successive rounds into her, one going into the fabric of her wedding gown at her breast in a flurry of white fuzz and red splatter. The second enters her chest, above and to the right of her breast. She convulses momentarily and goes down to the couch. Her body convulses more as her heart fails and blood files her lungs. She lurches until she is on the floor, leaning back against the couch. A few more convulsions, a shallow breath, and she is dead.
He does not waist time. He reports back to his bosses, then strips the body of her jewelry. After, he remains to check her out.
She is lovely and the risks of the job entitle him to these few perks. After all, men like him do not exist and no matter what he did to her, he would never be found.
He looked her over, then used her mouth to harden up his cock for a bit. After, he lifted her up, plopped her on the bed and got her dress off.
He did not linger, but got right to business. He parted her legs, and slipped his cock into her welcoming pussy. He fucked her for a good while, before pulling out to cum all over her belly. Finished, he let. The message has been delivered and when husband to be finds her, he will realized, he should have paid his debt in a timely mannor.
Fetish Elements: Violence, Nudity, Explicit Sexual Content, Wedding Gown, Multi Shooting, Silencer, Hitman, Necro BJ, Necro Sex, Body Views, Foot Views.