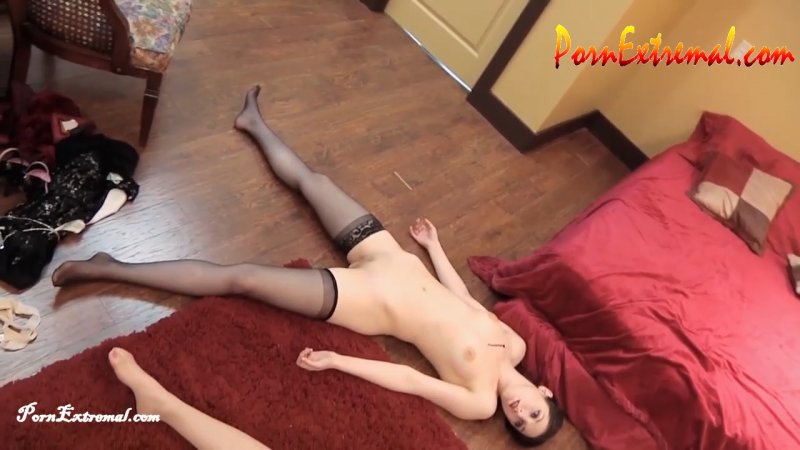 Peachy Keen Films – Shot Dead And Fucked
Categories: Strangle, Death Fetish, Snuff Play, Shooting, Abuse, Rape, Bagging
Description: | MILEY MAY | VICTORIA VERVE | MILES |
Miley May and Victoria Verve were out for a typical girls night where a group of close girl friends, and their one gay friend, head out to the bar for some cosmopolitans after a round of ice creams.
Afterwards, they decided to go to Miley's house for some coffee and a nightcap. As they shut the door behind them, they were shocked to see Miley's boyfriend Miles drunk on the couch, swirling a bottle of cognac. Miles looks like he's been waiting all night for his girlfriend to get home, and doesn't trust that she has kept faithful.
They assure Miles that it was just a typical ladies night, and there weren't even any other straight men around. Miles is drunk and doesn't trust either of the girls. He tells them to shut up and that he wants to get his dick wet. He pulls the uncomfortable girls in and begins to drunkenly fondle them.
The girls decide that they would rather spend the night at Victoria's, and let Miles sober up for the night. As they are headed for the door, Miles gets in their way and draws a pistol. He forces them on the couch and asks which of the two are going to suck his dick. He even whips out his erect cock and pulls their heads toward his belt buckle.
At this point Miley is apologizing to her friend Victoria who has had enough and heads for the door. Miles points the gun at Victoria as she calls him crazy and Miles fires. Miley rushes to her friend's body for help, but she's already dead. Miley is freaked out and angry at Miles and after the two get into a small tangle, Miles shoots Miley dead.
Although the two girls are dead, Miles has a one track mind and still wants to get his dick wet.
He strips the two bodies down, feels them up, and bangs one out in the boths of them. Not as wet as Miles had wanted, but I guess beggars can't be choosers.
Fetish Elements: (HC) UNWARRENTED FLIRTING, SHOOTING X2, DEATH, STRIPPING, NYLONS, BODY FONDLING, NIPPLE SUCKING, NYLON PLAY, NECRO FUCKING, BODY VIEWS