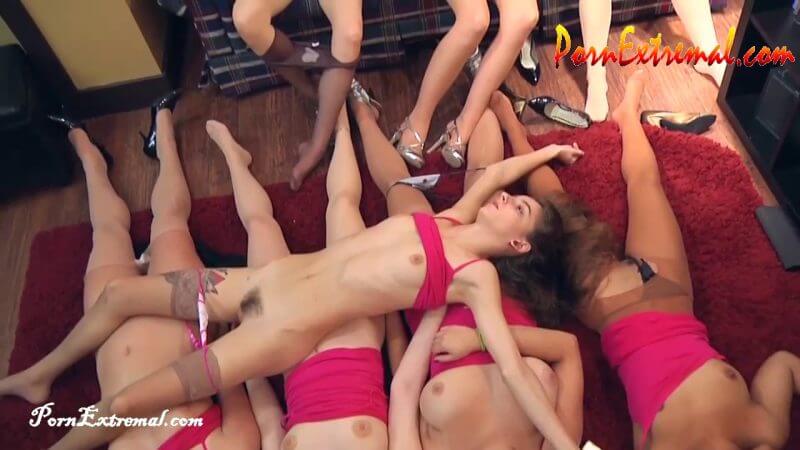 Peachy Keen Films – Snuff The Bridal Party
Categories: Strangle, Death Fetish, Snuff Play, Shooting, Abuse, Rape, Bagging
Description: Pepper is only 22, but she is getting married for the 3rd time. ItТs nothing fancy. Just her and her girlfriends hanging out in her apartment and having some fun before heading down to the courthouse to meet her man.
During the random fun of various chatter, a man burst in and shoots one of the bridesmaids. The girls freak out an huddle together scared. One of there friends is dead.
It turns out, her last husband was overseas when she broke the bad news to him and before the dust settle, she was off with someone else. It appears, he is not taking the news well.
In moments he has shot a second innocent girl. She collapse on the laps of others and is roughly pushed to the floor in panic. Now he challenges the girls to choose who is next and though dumb luck and the nature of self-preservation, another poor girl is murdered.
Immediately after, a girl makes a run for is and is mowed down at the door. She crumples to the floorЧ4 holes in her back, dead.
Pepper tries to reason with her irate ex, but he far from rational. He lines up 3 girls and plays Уeeny meeny miny moeФ resulting in another dead young woman.
Then, he lines the rest up with Pepper in the middle and make her choose who of her two friends left, is next to die. Pepper only hesitates briefly before pointing at her poor friend Lily, who is capped in the boob and falls back on the couch with a lifeless stare.
Now with the math simple, he murders her last bridesmaid with a quick, burst of his MP-5 up her front and she drops like a rock.
Pepper now begs for her life, even resorting to showcasing her impressive chest to lure him back into reality. But the voiced in his head or the continued feeling of being jilted solidifies his resolve. He bursts several shots into that perfect chest and his ex-lover falls without grace, dead and goneЧjust a lovely stare that he will remember.
But all is not lost for this jilted soldier. He has new inspiration in the 8 dead girls before him. And one by one, he takes his time ripping and disheveling their clothing, running his hands up and down there warm, smooth dead bodies, and playing with there lifeless limbs.
He spends almost equal time at them all. Sucking breasts, rubbing skin and pantyhose and stocking covered legs. He even plays with their petite floppy feet.
But, finally, with all the girls fondled, he has one more task to complete. He lifts up Pepper, sets her on the couch between her dead friends, then chooses the biggest whore in the room and fuck her corpse until he is satisfied—knowing that Peppers lifeless eyes were watching him do it.
Happy now, purpose complete, he arranged the bodies in some sense of order, then leaves.
Contains: Violence, Nudity, Sexual Content, Peril, Begging, Multi-Shooting, Headshots, Pantyhose, Stockings, Clothes Ripping, Clothes Disheveled, Foot Play, Body Play, Fondling, Breast Sucking, Pussy Licking, Necro, Lifting, Posting, Body Pile, Carrying, Flopping, Limb Play, Foot Views, Body Views.