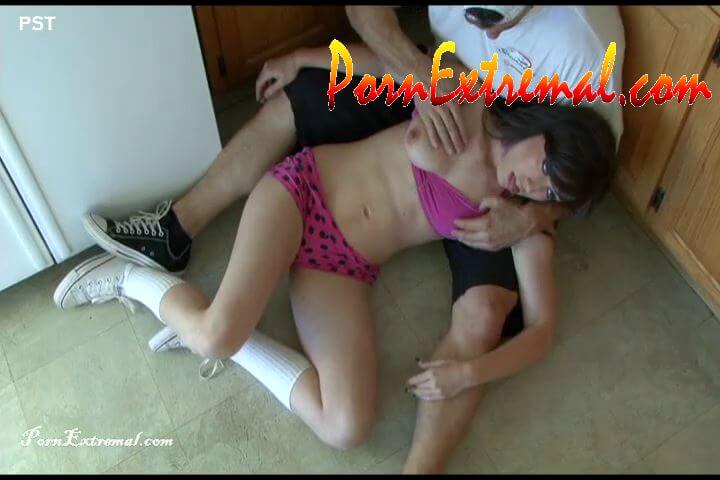 Psycho-Thrillers – Bundy
Categories: Strangle, Hanging, Rape, Death Fetish, Maniac, RolePlay Snuff
Description: Darcy and Jennifer play women living together who find themselves the target of a double homicide serial killer. He attacks swiftly, grabbing Darcy and jamming her against the wall while hand strangling her. He is so strong he lifts the strong girl off her feet, forcing her to come out of one of her shoes. She tries to fight back but is overwhelmingly overmatched. He has such a tight grip around her throat that Darcy goes down after a 5 minute struggle for her life. He enjoys her corpse at the door then decides to drag her away to the solitude of her bedroom where he can enjoy her more freely. Hours later, Jennifer returns calling for Darcy.
Jennifer thinks Darcy may have gone to bed early and decides to grab water from the kitchen after a long workout. As she recovers the killer sneaks up from behind. Surprised, Jennifer tries to ask what he's doing there but the killer delivers a back bending blow to the belly. Jennifer takes it and delivers a strong shot to his balls, knocking him back. As he recovers, Jennifer reaches back for a kitchen knife and threatens him. The mistake Jennifer makes is trying to stab him in the belly. She misses, leaving her unbalanced and the killer takes full advantage.
He grabs her arms and twists it until the knife falls free then grabs her by the throat. She is going to suffer the same fate as her friend. The strong killer jams her up against the refrigerator then lifts her body weight up. Jennifer's feet wiggle desperately in her sneakers as she fights to free herself but she suffers the same fate as Darcy. He lets her drop, admires his handiwork then decides to take Jennifer right there in the late hours of the night. He strips down her tight shorts, exposing her hot pale ass then eats it, kisses it and sucks her warm pussy into his mouth. Eating from Jennifer's corpse arouses him and he hangs her upright and fucks her really hard until he blows. He watches as her body pisses out his semen before arm carrying her into the bedroom to join her friend.
He lays her over Darcy in a cross position then helps himself to more of Jennifer's pussy before fucking her mouth just as he had done Darcy's hot mouth earlier, fucking it until his semen oozes out in thick globs. He leaves them there as a testament to his strength and sexual stamina.
Voyeur, Surprise, Home Invasion, Bare Feet, Foot Views, Death by Upright Hand Strangulation, Double Girl Kill, Death Stares, Drool, Fondling, Undressing, Nudity, Breast Views, Ass Views, Vaginal Views, Vaginal Worship, Breast Worship, Nylon Stockings, Belly Punching, Body Dragging, Arm Carrying, Double Body Handling, Double Body Posing, Double Body Positioning, Death by Suspension Hand Strangulation, Double Necrophilia Rape, Double Necrophilia Blowjob, Ligature Marks, Body Pans, Body Pile, Necrophilia Urination