Psycho-Thrillers – Natural Born Killers 3
Categories: Strangle, Hanging, Rape, Death Fetish, Maniac, RolePlay
Description: Ashley plays a young girl held captive by a wicked couple who had lured her into a trap. The scene opens with Ashley's hands tied behind her back and her being shoved into a quiet room and onto a bed. The deadly couple then have their way with Ashley, fondling her through her clothing and enjoying her sexy body. Their hands feed on Ashley's soft but firm tits through her clothing, pulling and pawing on her sexy tits and slipping past her panties and into her pussy. They selfishly help themselves to Ashley's orifices then flip her over and smell her ass hole. Ashley can feel them licking and sucking on her ass hole and her pussy and she subconsciously works her pussy in and out of their mouths and over their tongues. She finds Victoria strikingly attractive and lets Victoria kiss her as well as grind her pussy into her mouth. Victoria can feel Ashley's tongue tasting her juices and even trying to make Victoria come, which she does, stirring something deep inside Victoria that makes her thighs quiver.
The couple care for nothing but themselves, kissing each other and tasting Ashley pussy juices in their mouths. Ashley only serves to make their relationship stronger, not tear them apart. Ashley cries when Daniel splits her pussy open with his cock and fucks her roughly as Victoria looks on. Even then Ashley's pussy is wet and deep down she enjoys his fuck until he creams her insides. Ashley doesn't mind being taken but she wants to live. She hopes if she cooperates they will release her and she promises to forget about the whole event.
When the couple tires, Daniel leaves the room to find one of Victoria old nylon stockings. Ashley cries and feels they should allow her to live but they have other plans. Without hesitation Daniel gets behind Ashley and wraps the nylon around her throat and draws it tight. Ashley squirms and thrashes in the air, feeling Victoria's strong arms forcing Ashley's thighs to spread far apart. Ashley can feel Victoria's eyes burning into her pussy lips as she bucks and fucks the air. As Ashley slows and becomes more manageable, Victoria allows her fingers to slip inside Ashley's pussy, finger fucking her, arousing her. Ashley grinds her his to meet Victoria halfway as her tongue protrudes from her lips. After long moments. Ashley is still and the room is quiet and Ashley is dead. Victoria allows Daniel to fuck Ashley one more time before he sits her up and slowly breaks her neck to seal Ashley's fate. They leave the room as a couple in love until another victim is needed to rekindle their twisted romance.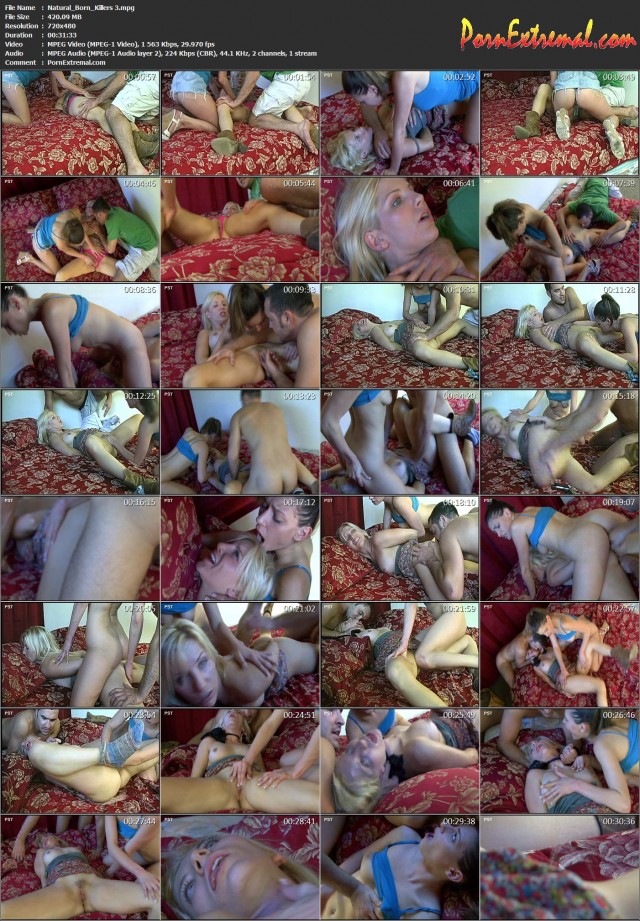 Natural_Born_Killers_3.mpg 420.09MB