Psycho-Thrillers – Object of Desire 3
Categories: Strangle, Hanging, Rape, Death Fetish, Maniac, RolePlay
Description: Mahina plays a drunk girl lost in the bowels of her hotel. Searching for her hotel room, she stumbles past a stranger who sees how drunk she is and offers his assistance. He takes her keys and finds that she already past her room. He brings her close to her room then presses himself against her. His hands find her tits, groping them. They are large and he pleasures himself with them. She does little to nothing to stop him so he goes a step further, lifting her dress to squeeze her pussy. He takes her keys and opens the door and lets her inside. He drops her on the bed then closes the door, locking it.
He turns his attention to her, groping her through her dress before removing it. He tears her pantyhose apart to get to her pussy. She groans as he eats her pussy and caresses her body, massaging her breasts and getting her hot. He asks her is she ever sucked cocked before cramming his rod down her throat. She willingly sucks him deep. He asks her where she keeps her pantyhose. At first she cannot remember but then she points toward her dresser drawer. He finds her pantyhose and ties her up to the head of the bed.
With his victim tied up, he confesses that he is a serial killer. With the extra stocking her found in her drawer, he teases her big hard tits and her stiff nipples before flossing her throat. He wraps it tightly around her neck and begins to pull as he pushes into her pussy. Unable to breathe, she begins to struggle and fight against her bonds. Her struggle only serves to keep his cock hard inside her until she is dead. He releases her, revealing a deep bruising ligature mark around her throat then he fucks her, first taking his time then building up to a strong climax. After emptying himself, he pulls out of her sickening, pale form, dresses and leaves her there to piss herself.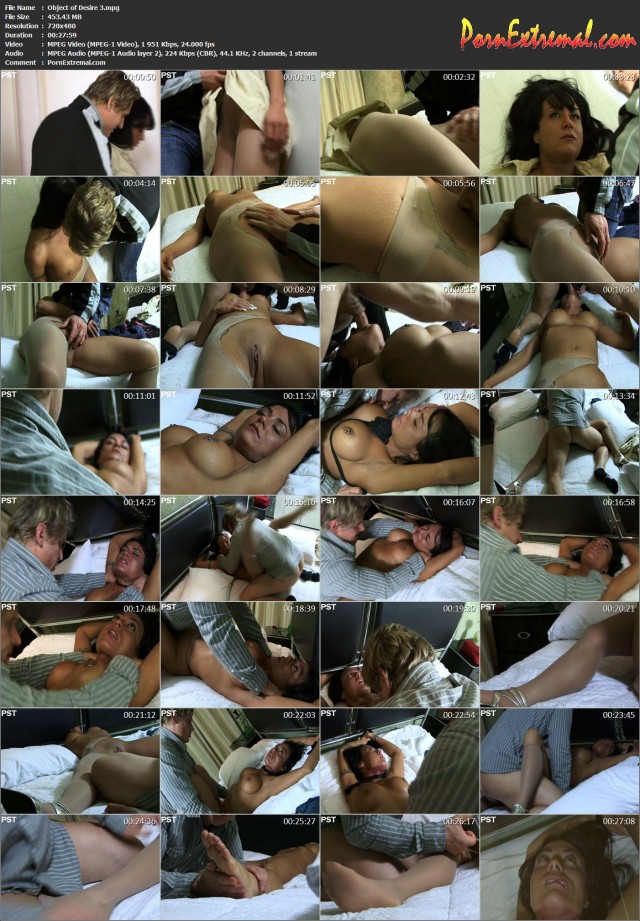 Object_of_Desire_3.mpg 453.43MB