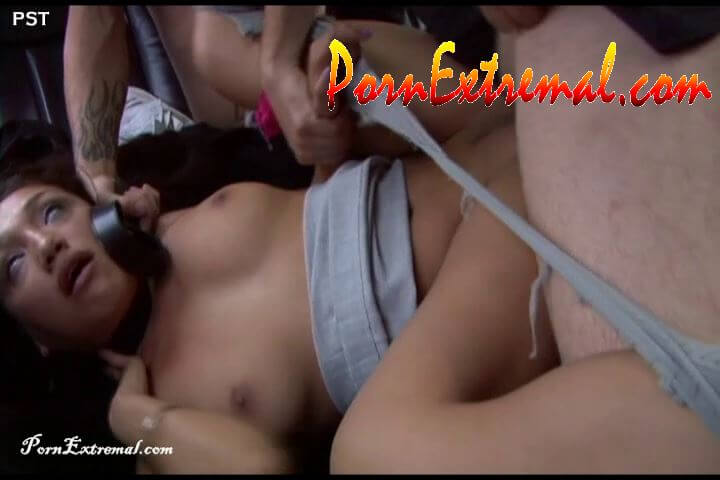 Psycho-Thrillers – Real Time Pov Strangle-Fuck
Categories: Strangle, Hanging, Rape, Death Fetish, Maniac, RolePlay Snuff
Description: Contains: Set-Up, Pantyhose, Limousine Kill, Extended Double Live Rape, Nylon Stocking Tearing, Double Forced Blow Jobs, Forced Undressing, Facial Slapping, Nudity, Surprise, Fondling, Double Necrophilia Carry, Death by Belt Strangulation, Vaginal Finger Penetration, POV Views, Breast Views, Vaginal Views, Vaginal Worship, Necrophilia Rape, Body Positioning, Posing, Body Handling, Humiliation, Body Pans
Editor's Notes: This is a different format we are trying to please let us know what you think. It is meant to give the action an edgier feel so we appreciate your feedback to make our product better. This is the prequel to TWIN SISTER'S DOUBLE REVENGE.
Description: Vicki plays a young office girl who surprisingly receives a promotion and is promised a larger office with increased pay. Happy she decides to take a limo ride with both men to celebrate her new-found success. The limo driver drives them into a private area at his home as he is used to the game that both men plays knowing he will be paid very well for remaining silent. As the camera rolls and they record her elation, the men begin to come on to her until eventually she is choked and forced down on the leather seats.
As she struggles to deal with what is happening, they tear her pantyhose apart, open her blouse and tear apart her bra. They are aggressively on her to the point where her clothing are just tattered rags. She tries to fight them but they are much stronger. Her face is repeatedly shoved down between her boss' legs and she is forced to throat his cock as her boss' boss fucks her from behind. She cries and tries to resist bit there is little room to maneuver. Tired of her resisting, a belt is tightly wrapped around her throat to control her but her continual terror enrages him until he finds himself pulling her on top of him.
Her pussy is fingered with a hunger as the belt is pulled tighter and tighter. Sat first he only wanted to control her, to calm her down but his lust for wanting to fuck her and for having control over her life makes him go beyond his sense of restraint. He wants to take her life now so he pulls harder. Soon her thrashing slows drastically and his friend fucks her as she twitches. He creams her insides and by the time he pulls out she is dead. Her killer tosses her onto the seat and takes his turn, plowing her insides until he too deposit's a hot steamy load inside her. The driver takes them to an alleyway where they dump the body between several garbage buns and drive away.