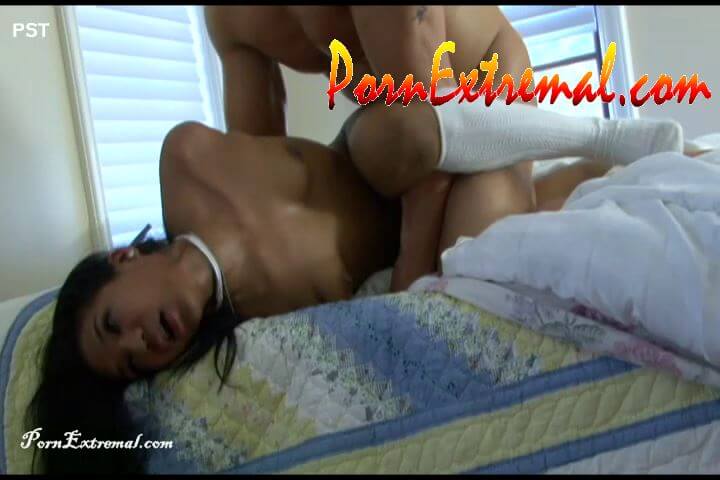 Psycho-Thrillers – School Girl Sex Strangler 2
Categories: Strangle, Hanging, Rape, Death Fetish, Maniac, RolePlay Snuff
Description: Contains: Set-Up, Dialogue, Surprise, Dorm Invasion, Chloroform, Sleep Assault, OTS Carry, Up-Skirt, Fondling, Undressing, Bondage, Terrorizing, Humiliation, Nudity, Bondage, Extended Live Rape, Extended Necrophilia Rape, Death by Bra Strangulation, Necrophilia Urination, Breast Worship, Ass Worship, Body Handling, Body Posing, Death Stares, Drool
Editor's Notes: If you like to see a young bad girl get what's coming to her in explicit detail, then you'll love this one..
Description: Emy makes her debut as a young school girl with an attitude. She is getting dressed in the mirror, wearing super short skirts to tease the boys and men. Moments later there is a knock at the door. She is met by Captain Crackdown, a legendary detective well known for his hard nose investigations that have led to record-breaking arrests of hardened criminals. He questions Emy about Lana, a school girl who went missing 4 days ago. After several questions, the detective comes up empty and is asked to leave.
Emy goes back about doing her makeover when there is another knock at the door. Thinking it's the detective, she opens the door and is suddenly attacked by an intruder. He pins Emy to the bed behind her and presses a chloroform rag into her face. Forced to suck in the toxin, Emy fights for her young life but is weakened within a minute and carried out of her dorm room.
Emy is driven to the same room where Lana was killed and laid on the bed. She is fondled then undressed, her ass spread open, her beautiful shapely young pussy exposed. Her hands are restrained behind her back and the killer undresses. He gets several hard core pumps inside her before Emy wakes up and realizes what is happening to her. What occurs is long minutes of screaming, crying and pleading in what will be marked as one of the best rape performances this year. Emy is forced to endure a cold hard rape in several positions before the killer becomes impatient and grabs her bra.
He wraps the strap around Emy's neck and fucks her as he strangled her to death. Emy is helpless behind him, her face filled with pain, fear then death as he sexually assaults her. Finally Emy cannot get another breath and expires but her killer continues to fuck her with a violent fury until he blows inside her super tight muff. Satisfied he's gotten the most out of his kill, he poses her on the bed and stuffs her panties into her mouth. He spreads her legs and leaves as she urinates.
Persia plays the next door neighbor who is surprised by Johnny her friends husband. He confesses how much he's always wanted her but when she resists his advances, he snaps her neck. He feasts on her curvaceous body like an animal eating a carcass, enjoying the smell and taste of her ass and pussy until he is interrupted by his wife who came to drop off something. Johnny tries to explain his actions but when she doesn't buy it, he suddenly snaps her neck, abruptly ending her life. He strips them both, fucks them both and leaves both of them there after he's fully satisfied himself.