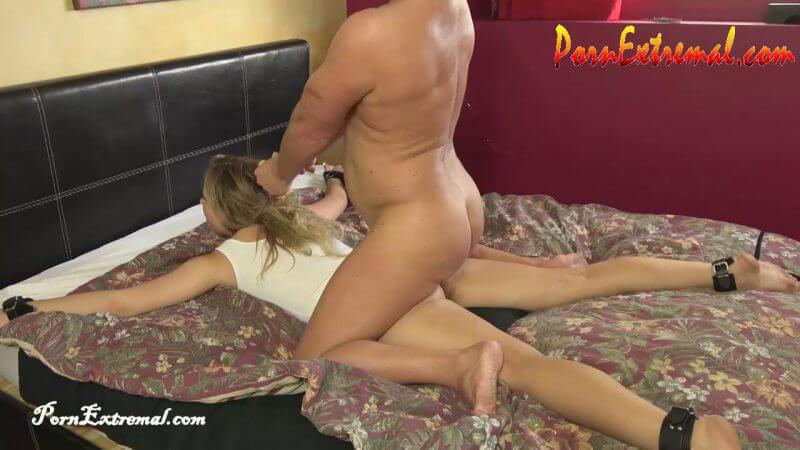 Psycho-Thrillers – Uber Driver Killer 2
Categories: Strangle, Hanging, Rape, Death Fetish, Maniac, RolePlay Snuff
Description: Starring: Alyssa Cole, Eric Masterson
A very violent and twisted Uber driver runs into an opportunity of a lifetime. His pickup is a young girl, alone, wearing a very short, tight dress that just barely covers her ass and pussy. The girl however is very sweet, innocent, and friendly.
After making casual conversation, she tells him that she enjoys living alone and is looking forward to a quiet night on the couch alone. The driver realizes that she will not be missed for at least a day, and then decides that she isn't going home. He pulls over in a secluded area pretending to have car trouble. He asks her to move to the driver's seat to try and start the car while he looks at the engine. When she gets out and walks around the car, she is chloroformed and locked in the trunk.
The next scene begins with her spread and tied face up to all 4 corners of the bed in the basement of his secluded country home. She is still wearing the short tight dress and sexy lace panties, barefoot.The killer enters the room and begins to rub and taste her body, while explaining to her how helpless her situation is. He tells her in detail of his plans of violent torture and that the last thing she will feel before death is his load shooting deep insider her. She is crying and trembling in fear.
While rubbing her and kissing her, his hand finds itself entering her mouth, where he continues to force his fingers down her throat causing her to gag hard. When she gags, he pulls out his hand and punches her hard in the face causing her to bleed and her body to go limp.
The killer then goes back to being gentle, as he begins to passionately fuck her and kiss her mouth as if they were lovers while she is unconscious. She begins to wake up as he is inside her. When she realizes where she is and starts to struggle, he is ready with a taser in hand. He shocks her long and hard in the side of the neck while he continues to bury his cock in her pussy. She passes out again.
He then flips her over to her stomach, wakes her with more physical and verbal abuse, rips her panties off, jams the taser up her pussy from behind and shocks her long and hard. Then for the final rape, she remains bound face down, and the killer begins to rape her anally. After about a minute of all out ass raping, the killer begins to wrap a garrote around her neck, pulling her head and neck backwards and strangling her while he continues to fuck her in the ass. She tries to struggle for air and for her life, but she is defeated. In her final moments her body begins to twitch and right before she is about to breathe her final breath, the killer dumps his load deep in her ass.