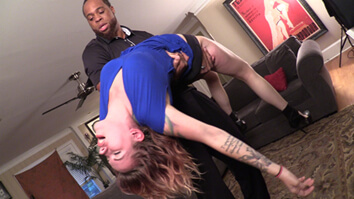 VelvetsFantasies – Foxy's Sleepy Date
Categories: Death Fetish, SoftCore, Gun Fun, Non Nude, Non Sex, Girls Play, Amazon, RolePlay, F/F
Description: Foxy Roulette comes home from a bad day at work. All she wants to do is take a nap and forget the day ever happened. She remembers she has a sleepy concoction that will help her rest. A couple of drops won't hurt, right? After downing a bit more than needed, the drug begins to take effect, and she immediately begins to weave in and out of consciousness. Before Foxy realizes that she had a date tonight with a new man named Ted, but her wooziness gets the best of her and her blurred vision prevents her from texting him.
While trying to fight effects of the drug, she collapses on the floor and passes out into a deep sleep. Time passes, and there's a knock at the door: it's her date Ted checking up on her. When he discovers Foxy knocked out on the kitchen floor, he desperately tries to wake her by rag dolling and carrying her around, but she's too far gone as her eyes seems to roll back further. He brings her to the couch, cradle carrying her with ease, and revels in how limp Foxy is in his arms. He situates her on the couch unsuccessfully as her body falls to ground, and before he gets the chance to bring her to bed, she groggily awakens and begs to be knocked out again with an emergency stash of chloroform she has hidden away.
Ted reluctantly agrees, and then carries his sleeping beauty to bed amazed by how interesting this unexpected sleepy date night has turned out! He hopes to have another date with the beautiful Foxy again…with her being awake can be optional!
This movie contains drugged drink KO, chloroform KO, emphasis on rag dolling, emphasis on cradle carries, OTS carry into cradle carries, eye checks, limp limb manipulation