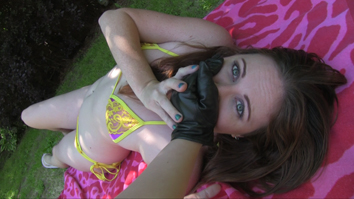 VelvetsFantasies – Immerse Yourself: with Shauna Ryanne
Categories: Death Fetish, SoftCore, Gun Fun, Non Nude, Non Sex, Girls Play, Amazon, RolePlay, F/F
Description: As you walk over the luscious green grass, there she lays….the stunningly beautiful Shauna Ryanne. The married woman you've been seeing, waiting for the day when she will get the divorce she's been promising you. When you approach, she explains that her husband is aware of your affair, and has also discovered a news reports of a man matching your description that's been kidnapping women and knocking them out for sport. Fed up with your lies, Shauna decides to break up with you right then and there. Too bad you both have COMPLETELY different agendas!
Your reason for showing up on this fine sunny afternoon was to confess that you are indeed the guy in the news….and she's about to be your next victim! Shauna is powerless against your leather glove, and you see the desperation in her eyes as she pleads for you to let her go. But it's too late…the sleepy stage is now set.
After letting her groggily crawl around the backyard in between various knockouts, you take the lovely redhead out of the sun and into a shaded area…where you both can be more comfortable. It's at this point that you force her into a self-induced KO via chloro-soaked dust mask. She slowly renders herself unconscious, hoping that you'll eventually let her go. We fade out on the lovely Shauna, her face serene as you remove the mask.
A face, you realize, that is too lovely to abandon. Your day, it seems…has only just begun.
This movie contains hand smother KO, chloroform KO, black jack KO, sleepy spray KO, neck chop KO, dust mask KO, teasing gas mask KO, body rolling, limp limb manipulation