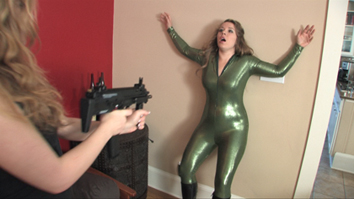 VelvetsFantasies – Kerie Clones Last Stand
Categories: Death Fetish, SoftCore, Gun Fun, Non Nude, Non Sex, Girls Play, Amazon, RolePlay, F/F
Description: Starring Kerie Hart and Jacquelyn Velvets. Kerie Hart returns to VelvetsFantasies.com as the beautifully deadly Kerie Clones! Agent Velvets is sent with the task with taking out several clones stationed around a nearby lair. Along with some help from her lethal machine gun, Jacquelyn mows down clone after clone, leading to tons of sprawled out bodies, awkward limb positions, post death machine-gunnings, and wall-slides that would seem like Jacquelyn has got this mission in the bag!
As soon as she gets cocky however, she is confronted with the REAL Kerie by gunpoint, and she's not going to go down so easily as her clone adversaries. Luckily for Jacquelyn, she's a pro and knows how to handle such a situation: with a heavy spray of bullets!
This movie contains 9 machine gun deaths, 3 overkill shots, death stares, pulse checks, pleading, sneak attacks, pained and wincing expressions, variety of being shot in the front and back, wall slides
There are NO blood scenes or special effects just sexy girls dying over and over in various ways!
**This movie features my gas-powered machine gun props that provide realistic recoil and occasional "smoke puff" effects!!**