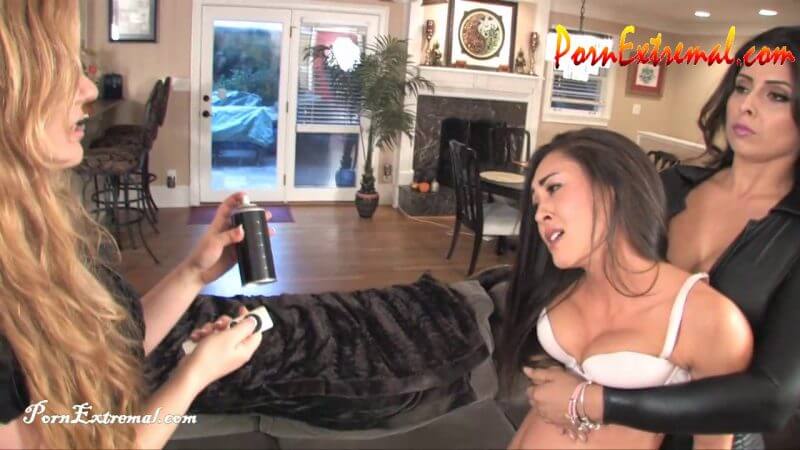 VelvetsFantasies – Rage Within The Machine 3
Categories: Death Fetish, SoftCore, Gun Fun, Non Nude, Non Sex, Girls Play, Amazon, RolePlay, F/F
Description: Starring Jacquelyn Velvets, Sumiko, and Jasmine Mendez
After having stolen Jacquelyn Velvets' patent for her newest FemBot technology, millionaire / fake entrepreneur Sumiko is invited over to her old partner's home. Deviously curious, Sumiko accepts…ready to mock any and all of her former partner's remarks. The grinning Velvets informs her that she's forgiven her for her sins, and wants to introduce her to the FUTURE of FemBot technology. Sumiko scoffs at the idea, but within seconds Velvets brings in her newest creation via remote control. A tall and beautiful Latina FemBot known as "Jasmine" enters, stunning Sumiko with her realistic skin, movement, and overall marketable sexiness. Sumiko gets lost inspecting Jasmine's frame, thus leaving herself open to a sudden signal from Jacquelyn's remote control. Jasmine immediately traps the devious thief in a vise-like bearhug, squeezing her unconscious and letting her drop to the couch! Jacquelyn decides to have a night of fun, ordering her FemBot to knock her rival out repeatedly, rag doll her, and even strip her down to her lingerie.
There's even an impressive throat lift that truly shows off the new FemBot's strength…all leading to a final sleepy spray KO that goes awry when Sumiko makes sure some of the KO drug hits Jasmine in the face! The FemBot starts to malfunction, much to Jacquelyn's horror, and before she can re-wire her creation, the Bot lifts Jacquelyn into the air by her throat, knocking her unconscious and letting her slump to the couch. She sits, staring blankly, as the two ladies start to come to. They make a break for it but Jasmine catches them in a double choke that quickly sends them back to Dreamland!!
With her creator and Sumiko down and out, Jasmine goes into shut-down mode, her eyes fluttering slightly as she slumps backwards, leaving a pile of three women (two of them real) on the couch, each one destined to be out of commission for quite some time.
This movie contains bearhug KO, throat lift KOs, head crush KO, sleepy spray KO, double choke hold KO, over the shoulder carries, cradle carry, rag dolling, limp limb manipulation