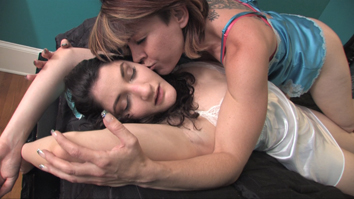 VelvetsFantasies – Sinfully Suite with Arielle & Annabelle
Categories: Death Fetish, SoftCore, Gun Fun, Non Nude, Non Sex, Girls Play, Amazon, RolePlay, F/F
Description: The scene opens with Arielle and Annabelle snuggling in bed together sipping on wine in their sexy silk nighties. At last, another night alone together..what are two girls to do with such a an opportunity? Arielle playfully suggests they do some of those 'sleepy games' that they indulged in last weekend, and Annabelle delightfully agrees as she is already prepared with a few knock out toys hidden behind her pillow.
They start off with a chloroform soaked gas mask, in which Arielle gets to play victim first. As she softly whimpers under the mask, it only turns Annabelle on to see her lover getting knocked out. After she awakens, Annabelle gets the same treatment, and fully realizing too just how much she also enjoys seeing her love slip into unconsciousness.
Both girls have their way with one another in between various knockouts by caressing, kissing, undressing, and rag dolling one another until a playful twist happens. While Arielle lays spread out on the bed, Annabelle takes out her secret weapon: a dropper that contains a potent sleeping agent that will keep Arielle out for hours of sleepy fun! She tries to trick Arielle into drinking it, but to no avail. She craves watching Annabelle go out via chloroform instead. In doing so, she now finds the dropper and doses Annabelle's drink, ultimately finding the both of them "celebrating" their evening by accidentally knocking each other out with their drugged drinks! All that's left is a beautiful heap of sleepy fun that will definitely continue when they wake up..
This movie contains gas mask KOs, dust mask KO, chloroform KOs, drugged drink KOs, sleepy kissing, butt slapping, limp limb manipulation, rag dolling