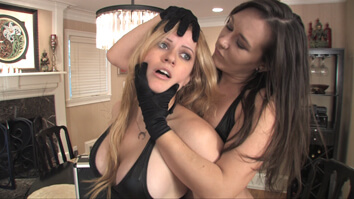 VelvetsFantasies – The Eliminators 3
Categories: Death Fetish, SoftCore, Gun Fun, Non Nude, Non Sex, Girls Play, Amazon, RolePlay, F/F
Description: Two bad-ass spies in black wet-look attire (Jacquelyn Velvets and Sinn Sage). Multiple attacks, betrayals, finishers, and twist-endings.
In this amazing custom production, both beautiful agents take turns winning and losing via a myriad of unrelated segments that end in one spy's demise…and the other standing victoriously over her fallen foe. There's even some a few instances where BOTH sexy bodies lay twitching on the ground, thus covering any and every angle that could possibly be tackled in this hot and deadly mashup!
A final POV gunshot seals the deal for Agent Velvets after she betrays the doomed Miss Sage…leaving us to fade out on not one but two defeated assassins!
This movie contains neck snap deaths, pistol shot deaths, sleeper hold KO, self neck snap deaths, electrocution deaths, self neck snap deaths, strangulation deaths, dragging, revive injection, twitching, postmortem kissing, body searching, limp limb manipulation