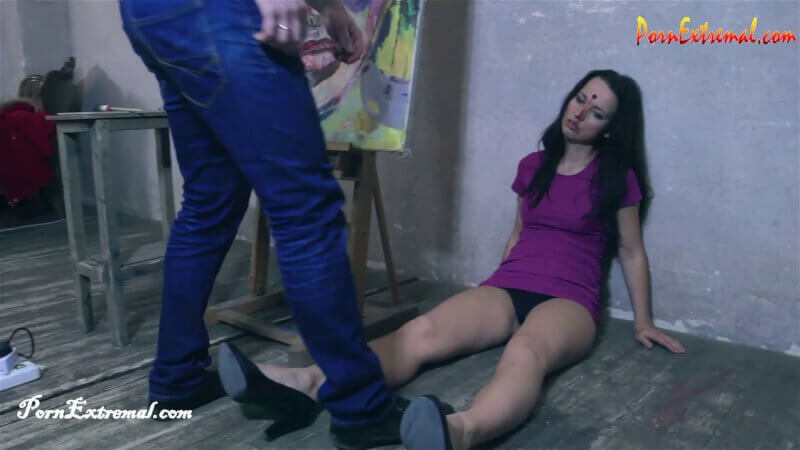 Crime House (aka Dark Rooms) – Drawing Lessons
Categories: Strangle, Death Fetish, Snuff Play, Shooting, Abuse, Gun Fun, Bagging, Nude Sexy
Description: Fetish elements:
Chase with shootout
Shootout in a civil place
Mass murders
Headshot
Many shots in the chest
Human shield
Many shots in the chest, stomach, to the back
Quick and long death by bullets
Choking
Body examination, body stripping
Making nude bodypile
Plot
Cop is chasing a gangster. While escaping gangster enters an old factory where many companies rent their offices, one of them is art master class. Young very sexy woman, an art teacher has a drawing lesson for 3 young students. Gangster tries to hide in their class when the cop enters and tries to shoot him dead. Cruel shootout starts. Cop's stray bullet kills teacher to her head. Students are in panic. Gangster opens a fire, cop does it too. One if the student hides under a table and other ones stay under crossfire…
Four random bullets kill the first girl. The second girl's death was terrible… 10 Bullets to her body! Two bullets to her chest, near the heart. Another two bullets are to her back. She twitches. Gangster catches her as a human shield but in doesn't stop the cop. He shoots to her trying to kill gangster. Gangster pulls her out and runs away. Poor student stands with 10 bullets in her body with a pain shock, then falls to the floor, has some agony and dies…
Cops returns to the class. His mission is fallen – gangster could escape. How will the cop explain three dead civils to his chief in his office? Dirty work! Hi doesn't want to be fired and he decides to burn the room with bodies to hide evidence. When he was carrying bodies he saw the hidden student under the table. He attacks her and chokes with his own hands. The 4th dead girl now! It was the line where myrmidon of the law became the monster himself.
He strips bodies to bring down the investigation astray. He makes a pile of bodies and thinks about burning them. He is looking at four dead, nude or practically nude young females. He killed them. Not the gangster, he did it. Many dark thoughts are in his head…