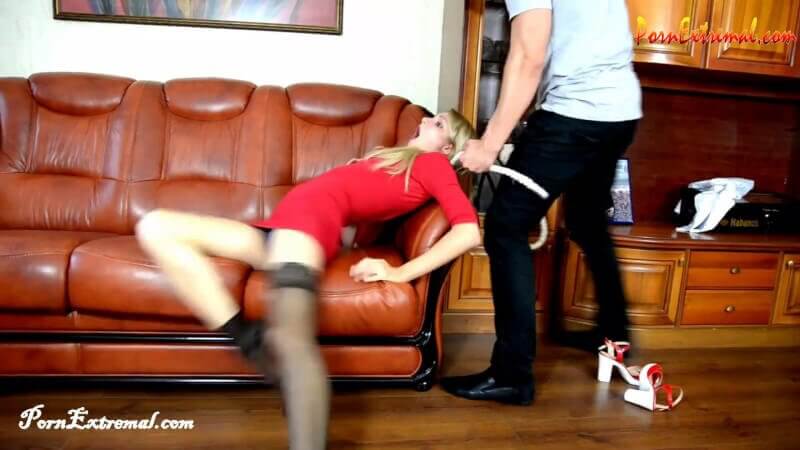 Crime House (aka Dark Rooms) – House Of 9 Corpses Part 1
Categories: Strangle, Death Fetish, Snuff Play, Shooting, Abuse, Gun Fun, Bagging, Nude Sexy
Description: Police found 9 naked and half-naked female corpses in the small hostel in New York. 7 girls were strangled, 2 girls were murdered by neck snap. It was a job of maniac in mask, the famous New York strangler. It was his most mass massacre in his own history. This story shows this terribme crime with all details.
Part 1
Chapter 1
Morning. Marina, the secretary of middle company, starts her day before work with her morning cigarette. This rick day she smokes in her balcony, as usual. Maniac is already in the hostel. He surprises her in the balcony from behind and strangles her with a big rope. Her strangulation scene is long, her legs in black stockings twitching is sexy. He leaves her body in the balcony. We see her brief case when policemen take photos of her dead body.
Chapter 2
Young Victoria is in the kitchen, she is in T-short and black pantyhose, she is going to have a coffee break. But maniac rushes to the kitchen and strangles her to behindЕ Long very sexy strangulation scene.
Chapter 3
MaryТs character is going to her work. SheТs PR-manager, but she has started her careear recently, so she hasnТt anough money for her own place to live and she lives in hostel with friends. She was putting on black stockings when maniac attacked her. She tried to escape, changed many twitching poses during her fight for life, her agony face emotions with eyes wide opened and tongue out from her mouth were very expressive. Poor girl was strangled. Maniac fully striped her body but didnТt take off her black stockings. He goes to take lives of next victims.