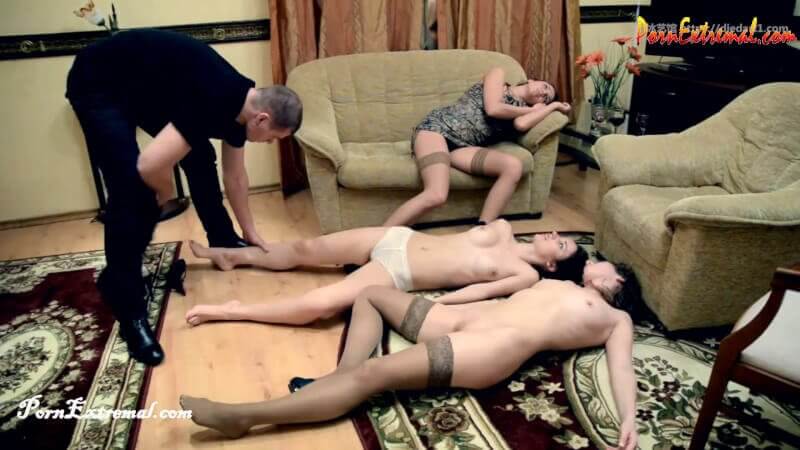 Crime House (aka Dark Rooms) – Unhappy Birhtday 2
Categories: Strangle, Death Fetish, Snuff Play, Shooting, Abuse, Gun Fun, Bagging, Nude Sexy
Description: Starring: Luiza, Nata, Julianne, Annabelle
Fetish elements:
Strangulation, choking, stockings, tongue out, death stares, legs kicking, sexy situations. neck breaking, body carrying, 4 dead girls bodypile
25 minutes! 4 strangulation scenes and lots of dead playing!
Last summer, a terrible crime was committed (see Unhappy Birthday). 4 girls were strangled at the party. It was probably manic-strangler. The case was never solved.
Sister birthday girl strangled, which was not in terrible fateful holiday, continued to live sweet. She inherited the estate of his sister. And today she celebrates her birthday with her best friend!
Keith Maniac read about the events of last summer from the newspapers. He was very excited by what had happened and decided to repeat the "feat" of his predecessor. He tracked down the sisters of the dead girl and rushed to her holiday!
First he strangled Nata in the bathroom. He put the corpse on the toilet. Then he attacked Juliana, while she was resting on the bed. At the end of strangulation he broke her neck with a crunch! Later he attacked the very traitor and strangled her in the bathroom, shower cord, leaving her body in the jacuzzi. His last victim was a club girl Annabelle. Later, he stripped the body and folded in bodypile, like his predecessor.