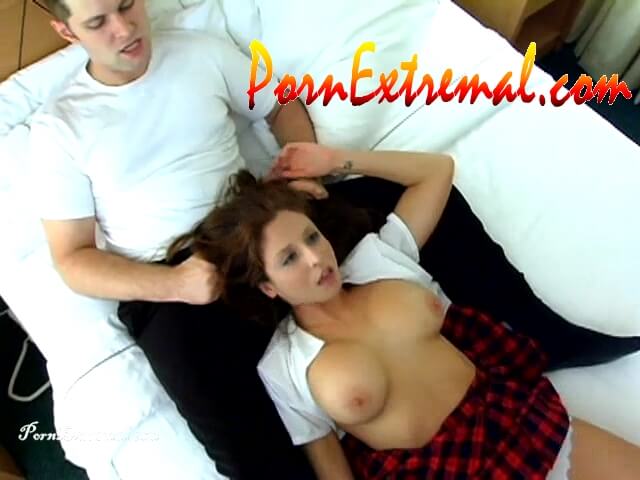 Peachy Keen Films – Escort Killer 2
Categories: Strangle, Death Fetish, Snuff Play, Shooting, Abuse, Rape, Bagging
Description: This is a sequel to the original "Escort Killer", which also starred Paris.
The killer is at another convention in some random hotel. Today, he calls an escort. He has no plans to kill her. He kills randomly, infrequently, so that there is no pattern. Tonight would be different. His hand would be forced by fate.
She was beautiful. Dressed in a schoolgirl outfit, she was just want he looked for in an escort–young, yet mature, petite with large breasts and most of all–red hair. He loved redheads.
The play around a bit, but he could not help but feel something was not right. Something about her he could not quite place. Then, she leaned in close, something in his mind snapped. He roughly pulled her closer, asking "Where do I know you." He asked over and over as if by repetition he would forced an answer. It worked. She had his answer.
It seems her sister was murdered in a hotel a year ago. They looked very much alike and unfortunately, both were in the same, dangerous business. "They never caught the bastard that killed her".
Then, she went to work on him, wanting to change the uncomfortable subject. But as she went to pleasure him, he launched upright, clutching her throat, throttling her until she fell unconscious.
When she woke up, he had a garrote around her neck and the last words she ever heard from him was that he was the bastard, the one that murdered her sister.
Tightly, the garrote tensed around her neck and she could only struggle, grabbing at the thin strap, kicking her legs. Her mouth opened–tongue trying to find air. Her eyes were wide. And the killer just leaned back the way he always did–keeping it tight–waiting for her to die.
He did not plan to kill tonight, but sometimes plans change. She fought hard and long–longer then her sister. He liked her better for sure and was a bit saddened that their evening was cut short. She was indeed special.
When she was finally dead, he set her up, admired her and the garrote mark he made on her neck. He let her flop to the bed, then set about to explore her body. He massaged her large breasts and licked her sweet pussy. Then, he rolled her over and fucked her until he cam inside–leaving a part of him with her.
He loaded her into a body back, looked at her one last time and zipped her up. Then, cuddled with her for a while, planning to leave shortly, allowing her body to be found by housekeeping in the usual fashion.
Fetish Elements: Violence, Nudity, Graphic Sexual Content, Hand Strangle, Garrote Strangle, Necro, Body Disposal, Foot Views.